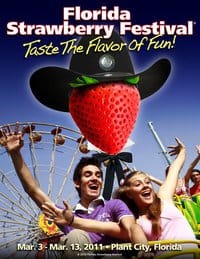 Nothing says "Spring is coming!" quite like a fresh-picked strawberry.  And, nothing indicates that the strawberries are about to pour in like a big-time strawberry festival.  Well, strawberry festival season begins tomorrow!  The first major strawberry party is about to commence in Florida's famous Plant City.
The Florida Strawberry Festival begins March 3rd and runs through March 13.  If you are in or passing through Florida, it can be a great opportunity to spend some time with the kids, relax, and enjoy some delicious strawberry stuffs.  There is truly something for every taste and age.  (See also the entire directory of Strawberry Festivals)
Florida Strawberry Festival Events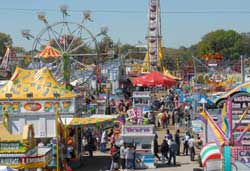 There are numerous events at the Florida Strawberry Festival.  The Midway has rides that will spin, turn, make the youngsters squeal with delight, and make the oldsters turn green.  The rides, games, and attractions will put that starry expression in the eyes of all thrill seekers.
The Kiddie Corral has racing pigs, a shoebox float contest, the Grandpa Cratchet show, a baby contest, baby rides, and more.
There is both free and headline entertainment.  The free entertainment includes Dennis Lee, the Jay Taylor Band, the magic of Lance Gifford and Company, the Bluegrass Parlor Band with Cory and Jarrod Walker, the Gothard Sisters, Brady Goss, the Paul Bunyan Lumberjack Show, and much more.  The headliners include: Bobby Vinton, Jimmy Sturr and Orchestra, Kenny Rogers, John Conlee, .38 Special, Suite Caroline, Jeremy Camp, Trace Adkins, Clint Black, Chubby Checker, Tanya Tucker, Rick Springfield, The Doobie Brothers, Billy Ray Cyrus, Lady Antebellum, and many others.
Additionally, the Neighborhood Village and royalty pageants round out the excitement at the strawberry festival.
Go to the Florida Strawberry Festival
Details on admission to the Florida Strawberry Festival and related events can be found by clicking here.  Additionally, more information can be found at the festival homepage.  See also their Facebook page or follow them on Twitter.
Other Strawberry Festivals
This fantastic strawberry festival is not the only one available, only the first of the year and one of the biggest.  For a host of other across the United States, visit the Strawberry Festivals directory!