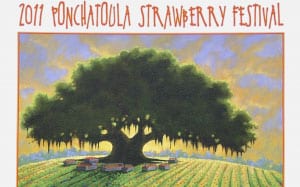 Looking for a fun event this weekend?  Well, you are in luck if you live in Alabama or Louisiana.  Two "happinin'" strawberry parties will be occurring, one in Loxley, Alabama, and the other in Ponchatoula, Louisiana.  Both events promise to be chock-full of strawberry-themed family fun.
If you are looking for some spring excitement, stop on by either.  Both are long-running, annual events that never fail to please both the kids and adults alike.  Of course, if you don't happen to live in Alabama or Louisiana, fret not!  There are scores of strawberry festivals scattered throughout the United States.  For a complete listing, see the Strawberry Festivals reference page.
Alabama Strawberry Festival
Don't miss the fun at the Baldwin County Strawberry Festival.  Events include an antique tractor show, pageant, car show, and other entertainment.
For more information, visit their website: Baldwin County Strawberry Festival
Louisiana Strawberry Festival
Likewise, if you happen to be in Louisiana, don't miss this annual fun fest!  Events include a large variety of music, Lil' Farmers Row, where children can enjoy the petting zoo or games by local organizations, ride state of the art rides by Lowery Carnival Co., and a Farmer's Row where you can buy a flat, or six, of the freshest Louisiana strawberries.
For more information, visit their website: Ponchatoula Strawberry Festival