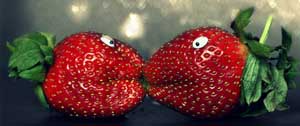 Here at StrawberryPlants.org we are dedicated to spreading the passion for all things strawberries far and wide.  One of the best ways to see people come to appreciate more aspects of the fabulous strawberry plant is to encourage gardeners and the average Joe to move from consumer status to producer status.  In other words, we want to see people buy and grow their own!
Now, everyone wants to save money.  To help further our mission AND to help you find the best prices on strawberry plants, StrawberryPlants.org hosts the most comprehensive shopping portal for strawberry plant varieties available anywhere.  You can buy rare strawberries, popular strawberries, white or pineberry strawberries, and just about any other type of strawberry commercially available by visiting the Buy Strawberry Plants directory.  There you can quickly check all the known online sellers of any strawberry plant variety you want and find the best price.
So, mosey on over and buy some for your garden today.
And, in your investigation, be sure to check out the companies to the right of this article.  They provide support to StrawberryPlants.org so that this site can remain free to all comers.
Best Prices on Strawberry Plants
Again, click this link to get the Best Prices on Strawberry Plants.