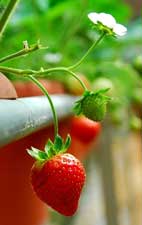 Everyone loves a good strawberry.  But, no one really wants to consume artificial chemicals.  While still unsettled, the debate about the production methods used by the Strawberry Industry continues.  For some background information, use the search box at the top right of the page to search for "iodide."  In short, to increase yields and profits, commercial strawberry growers using conventional methods used to apply a fumigant called methyl bromide to their fields to sterilize the soil.  After concerns about its safety were heard, its use was prohibited in other countries, and it was eventually phased out in the United States as well.  However, it was replaced with methyl iodide, a close cousin.
Methyl iodide also has safety concerns associated with its use, plus it is more expensive to use than its predecessor fumigant.  Because of these factors, the California Department of Pesticide Regulation and the California Strawberry Commission have teamed together to fund research on alternatives to fumigant use for strawberry growers.  $500,000 has been allocated to fund a team of researchers to out methods used around the world.   Among them are methods used to greenhouse-grow strawberries in Europe using strawberry plants planted in coconut coir.  For the full story, see the article here: Future of Fresas Grows in Experimental Field.
If you would like to grow your own strawberries, you can know exactly what goes into their production!  For green thumbs in the UK, you can use this link to order your own: Strawberry Plants.
For suppliers of strawberry plants in the US (and elsewhere), see the full directory here: Buy Strawberry Plants.