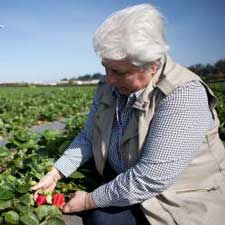 Strawberry growers have long sought to increase production to meet the demand for fresh strawberries.  And, demand is high.  The epicenter of world strawberry production is the state of California.  Over 40,000 acres of strawberries are cultivated each year, and approximately half of that total is located in Watsonville and Salinas.  Strawberry cultivation has obstacles to overcome, however.  Soil pathogens have long been a thorn in the flesh of farmers trying to maximize production.  Over the years, numerous attempts have been made to solve the problem of crop loss due to infection from fungal organisms.
Methyl bromide was used as a fumigant to sterilize soil.  After being condemned internationally many years ago, it has slowly been phased out here as well.  Methyl iodide, the replacement fumigant that followed, could have been used on strawberry farms, but was pulled last year after widespread concern over its alleged toxicity was raised by environmental groups.  This void of effective chemical fumigants opened the door for a new, organic production method to prevent disease.
Enter anaerobic soil disinfestation.
Anaerobic soil disinfestation is a new treatment that seems to work as well as past fumigation techniques, without the dangers.  As part of the treatment, carbon sources like rice bran, molasses and grape skins are mixed into the soil.  A tarp is placed over the field, and drip irrigation is used to saturate the planting beds, thus triggering the growth of anaerobic bacteria.  While not completely understood as of yet, the anaerobic bacteria probably produce organic acids that inhibit the fungal organisms.  And, if that wasn't hope-inspiring enough, the process is less-expensive than traditional fumigation methods.
Strawberries already have a reputation for being dirty.  Should this organic technique catch on, it very well could be a win-win for both growers and consumers looking for a methyl iodide alternative.  This new strawberry method shows great promise.
To read more, see here: Growing Berries Without Bromide.