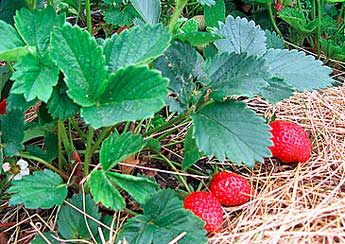 Strawberry plants are, in my humble opinion, a truly fascinating marvel of nature.  They are amazingly adaptable; they propagate themselves in a plurality of ways; and they produce a fleshy red, white, yellow, or purple fruit that is universally prized by the intelligent and instinctive creatures that live all around us (including us human folk!).  They have developed and adapted means of surviving sub-zero temperatures, and, consequently, can be grown from the warmer temperate regions of our great planet all the way north or south to the frigid regions.
But, their adaptability and genetic flexibility have allowed for selective breeding.  Researchers have been able to breed for desired characteristics.  And, while such breeding programs have allowed for improved disease resistance, bigger strawberries, different colors, and more commercially-viable cultivars, the breeding has also culled some of the hardiness from some of the varieties as specificity has narrowed by region.  Today, not just any strawberry variety will do well in just any ol' location.  The more extreme the weather, the more specific one should be when selecting a specialized variety for planting in order to obtain the best harvest from your efforts.
That, my strawberry-loving friends, is where this post can help!  If you live in the frigid environs of Canada (at least in winter), you need to know how to pick an appropriately hardy strain of strawberry plants so that you end up happy with your final yield of fruit.  If you are from the United States, go here for your state-by-state recommended varieties.  This page is a compilation of each of the recommend strawberry variety lists for each of the Canadian provinces and territories.
Continue reading Recommended Strawberry Varieties for Canada