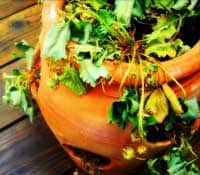 More and more people are growing their own strawberries as a hobby or as ornamentals or for production in their home gardens.  Few things are as frustrating as eagerly anticipating years of bountiful strawberry harvests and then watching the plants go from apparently healthy to wilted.  Wilting strawberry plants can make even the most stolid gardener attempt to forcibly remove his own follicles in a fit of perplexity.  This post is a review of what causes strawberries to wilt.
Sometimes wilting strawberries can be salvaged if the underlying cause is discovered and remedied.  Oftentimes, however, once the wilt sets in, there is little that can be done if it is caused by a pathogen.
For the sake of accuracy, it is good to distinguish between non-infectious wilting and blight.  Both look similar and can be easily confused, but they are actually different.  Blights can lead to wilting strawberry plants, but wilting is a symptom only.  Wilting is evidence of a problem, not necessarily a disease (blight).