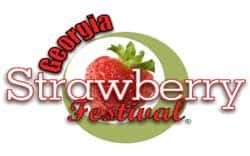 This weekend marks a big event for anyone who loves both strawberries and fun and will be in Georgia.  If that describes you, you should take heed of this big event: the Georgia Strawberry Festival.  Events span the 22nd and 23rd of April.  And, like every one of the past Georgia Strawberry Festivals, there will be a host of fun events for the entire family.
Events include a lawn mower race, the traditional grand parade, photography competition, other arts and crafts, cooking competitions, a car show, 5K run/walk, Easter egg hunt, and other family-friendly entertainment.
So, why not hop on over to the Georgia Strawberry Festival this weekend?!  The 2011 brochure is available here.  If you won't be in Georgia this weekend, feel free to peruse the extensive directory of other fun strawberry events all around the country on the Strawberry Festivals page.