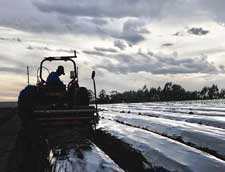 Strawberries are big business.  The United States produces the largest percentage of the world's strawberries, by far.  Only if you combine the whole of the European Union do you get a competitive production region.  What is needed to produce all those strawberries?  Well, that depends on who you ask…
A recent article in The Californian broaches the topic.  Methyl bromide used to be the fumigant of choice for soil sterilization until its recent ban.  Into the void has stepped methyl bromide's cousin, methyl iodide.  Is this a good development?  Some say yes, and some say no.
For those interested in what goes into their bodies, this article will help form an opinion, one way or the other (see also this link on 10 Reasons to Grow Your Own Strawberries, and Are Organic Strawberries Better?).  It is a balanced presentation by two authors.  The first advocates the use of this new fumigant as safe and necessary.  The second questions the necessity of its use and points to its dangers.
Get the whole story by clicking this link: Methyl Iodide & Strawberries.
[ methyl iodide strawberries ]