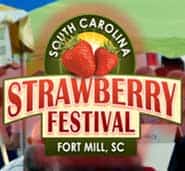 Family fun comes in the form of strawberry festivals this weekend.  If you are looking for something to venture out and enjoy, take advantage of these festivals that celebrate the fruit of strawberry plants.  Spring fun, hooray!
Strawberry festivals are happening right now!  This weekend, there will be four strawberry festivals occurring in three states.  If you live in California, South Carolina, or Tennessee, you might well be closer than you think to a memorable event.  And, don't fret if a berry fest is not in your neck of the woods this weekend.  Check the Strawberry Festivals directory to find out when one will be happening in your neck of the woods.
California Strawberry Festival
BerryFest in Roseville
Celebrating the Harvest of the Strawberry with great food, contests, shopping and exhibits with kids entertainment all Mothers day weekend, Saturday May 7th and Sunday May 8th 2011, Strawberry, Strawberry, Strawberry, Strawberry and more Strawberry.  Strawberry Pancake Breakfast, 8am to 10am both days.  Event open 10am to 6pm both days.
South Carolina Strawberry Festivals
South Carolina Strawberry Festival
Events include a golf tournament, pageant, and two full days of festival activities!
Mead Hall Strawberry Festival
The Mead Hall Strawberry Festival is day of fun for the whole family. There are games, entertainment, a bakesale, barbeque sandwiches, and plenty of fresh strawberries. This is the PTO's primary fundraising event, with proceeds going to PTO-sponsored activities and programs.  The Strawberry Festival takes place on the Mead Hall campus, which is between Richland Avenue, Pendleton Street, and Greenville Street.
Tennessee Strawberry Festival
West Tennessee Strawberry Festival
This event is still held each year on the first full week in May bringing over 100,000 visitors annually to the city for parades, beauty reviews, horse shows, BBQ Contests, and other events.
Find a festival near you this weekend and enjoy some wholesome fruit-flavored fun!  If this is late notice for you and the family, be sure to check out the entire directory of strawberry-related celebrations and events here: Strawberry Festivals