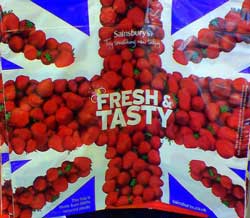 Strawberry plants, because of their unique genetic makeup, are one of the first crops available in most of the temperate world.  Britain is one of these fortunate countries to reap bountiful harvests in the springtime.  Weather plays a role in when crops mature, however.  And, the United Kingdom has had tremendously favorable weather for the productions of strawberries.
British Strawberries: Sweeter
The warm weather and favorable conditions this year have produced the largest crop of English strawberries in the last 20 years.  The warm temperatures through March and April have caused the harvest to arrive almost two full weeks earlier than normal.  Plus, the increased sunshine has increased the sugar content of the berries.  Bigger, sweeter strawberries?  You bet!
British Strawberries: Get Yours Today!
The bumper crop is predicted to decrease importation of foreign strawberries into the English market by 50%.  So, for all you English subjects out there, head to your local market and pick up some of the best homegrown strawberries you are likely to taste in a long time.  It may be 20 years or more before conditions match the ones from this year.  For more, see the article here: British Strawberry Plants Are Early!