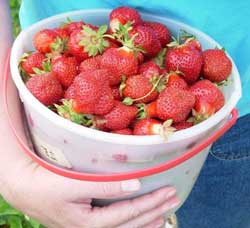 With summer just around the corner, strawberry season is almost over.  However, if you and yours are in a milder or more northern climate, you still have an opportunity to make the pilgrimage to a local strawberry farm to pick your own brimming baskets of fresh and juicy berries.
To help with your endeavors, be sure to check out one of the hundreds of pick-your-own strawberry farms around the country.  As always, be sure to call before you go to the farm.  Your experience will largely be determined by availability, and the farmers will fill you in on whether or not it is worth the trip.
Remember, proper strawberry picking etiquitte is important, so read up before you go!  With strawberry picking season nearing its end, make plans to head out this weekend.  Once you return with your bounty, be sure to checkout the directory of Strawberry Recipes, and the particularly popular Strawberry Jelly Recipe!