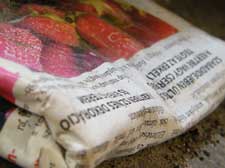 Strawberries are one of the all-time favorite fruits in most of the temperate regions of the world.  They are a multi-billion dollar business.  And, their adaptability makes them a widely-grown fruit found in pots and gardens of green thumbs across the world.  With all the interest in strawberries, developments happen on a regular basis.
This page serves to function as a repository of strawberry news.  Be sure to check back often for updates.  The latest news will be posted at the top, the oldest posted news will be at the bottom.
Strawberry News
Strawberries and Esophageal Cancer
Strawberries and esophageal cancer are on different ends of the enjoyment spectrum, but they are now linked by science. News Flash: strawberries may cure cancer!
Ancient Strawberry Plants Genetic Sequencing
Ancient strawberry plants still exist and are genetically simpler than the modern varieties. Now ancient strawberry plants genetic sequencing has concluded.
New Strawberry Varieties in Development
New strawberry varieties in development may soon offer significant improvements over current available varieties. Including a peach-flavored one!
Growing Strawberries with New Techniques
Growing strawberries with new techniques is becoming more and more important as the methyl bromide ban from 2005 will start being enforced strictly in 2016.
Hydroponic Strawberry Farms Adapting to Water Shortage
Hydroponic strawberry farms adapting to water shortage in California is the portent of things to come as the drought continues to diminish access to water.
Strawberries on the Verge of Helping Diabetics
Are strawberries on the verge of helping diabetics live better? New research into volatile strawberry compounds that affect perceived sweetness may help us.
Growing Strawberries in Bangladesh
Growing strawberries in Bangladesh is now possible thanks to some pioneering work by a university professor & much hard work by farmers. The story is here.
Strawberry Plant Growers Using Math for Success
Strawberry plant growers are using mathematics to successfully grow strawberries in locations where water and other resources are scarce. See how algorithms are helping farmers.
Strawberry Plants Benefit from Fungus
A new study conducted by the University of California shows that strawberry plants benefit from fungus. At least a few different types of fungi showed to have beneficial micorrhizal properties.
New Strawberry Varieties: Winterstar & Florida Sensation
The University of Florida has developed and released two new strawberry varieties: Winterstar & Florida Sensation. Superior characteristics have been proven by these varieties.
New Strawberry Species Discovered: Cascade Strawberry (Fragaria cascadensis)
Fragaria cascadensis Strawberry Plants are a newly discovered wild strawberry variety. Here's a profile of F. cascadensis strawberry plants & strawberries, also known as the Cascade Strawberry.
Strawberry Farmers Battling Gray Mold With Bumblebees
In a novel approach to fighting strawberry problems, learn how strawberry farmers battling gray mold with bumblebees are finding success and minimizing chemical use.
Discovering How Strawberry Plants Fight Fusarium Wilt
Australian researchers are discovering how strawberry plants fight fusarium wilt. Success in this endeavor may help strawberries be produced without using harsh chemicals and fumigants.
Northern New Mexico Strawberries Studied
Fruit trees are susceptible to frost. So are strawberries, but not in the same way. This article gives the details of the Northern New Mexico strawberries studied.
New Strawberry Method Shows Great Promise
As growers and consumers look for a methyl iodide alternative amidst toxicity concerns, a new strawberry method shows great promise. Anaerobic soil disinfestation could be the wave of the future.
Strawberries Are Dirty
How dirty are strawberries? Well, according to the Environmental Working Group, strawberries are dirty. Very dirty. Only apples ranked higher for pesticide residues in their latest study.
Millions of Strawberry Plants…Planted by Hand
Did you know that millions of strawberry plants planted by hand are inserted into soil each year? There are no mechanized systems gentle enough to handle strawberry plants yet.  So, some folks end up with tired fingers…
New Elevated Strawberry Growing System
A new elevated strawberry growing system has been developed in New Zealand. For the details, see this article. Adapting components of hydroponic gardening, the system shows promise.
New Substrate Developed for Growing Strawberries
A new substrate developed for growing strawberries has already gained acceptance by some large commercial greenhouses in the USA. The details of the story are here.
Latinos the Future of California Strawberries
Are Latinos the future of California strawberry production? Possibly. More and more families are breaking into the business, raising their living standards, and providing strawberries to consumers.
New Standards Released for Strawberry Plant Nutrient Sufficiency
News flash! New standards released for strawberry plant nutrient sufficiency. Strawberry plant nutrient sufficiency levels revised for first time since 1980, over 30 years ago.  The summary is here.
Strawberries Grown in Kenya
Did you know about strawberries being grown in Kenya? Well, humanitarian volunteers have implemented a self-sufficient system. Read for more info on strawberries grown in Kenya.
Exotic Garden: Purple or Pineberry?
Purple Wonder and the Pineberry are exotic strawberries fit for any exotic garden. Pineberries come from pineberry plants, however, and demand is high. Get yours before it is too late.
European Methods Tested for California Strawberry Plants
European methods tested for California strawberry plants to find replacement for use of potentially harmful fumigant methyl iodide. Background information available, future promising!
Organic Strawberries Are Better for Bees
Well, as it turns out, organic strawberries are better for bees. Or at least that is the preliminary report on the findings of new research comparing conventional and organic strawberries.
Fall Strawberry Plants Reminder
Heed this Fall strawberry plants reminder if you want to have first-year strawberries that are lush, delicious, and ready to harvest come Spring! Plant in the Fall for Spring strawberries!
New Strawberry Variety: Herriot
There is a new strawberry variety: Herriot. Released by Cornell's breeding program, this new strawberry variety Herriot has much promise. With good resistance and vitality, it's a winner!
Research Underway to Prevent Strawberry Diseases
Research is now underway to prevent strawberry diseases. U.S. Department of Agriculture is funding the research, which is spearheaded by the North Carolina State University.
New Zealand Strawberry Kits Skip Quarantine
What happens when New Zealand strawberry kits skip quarantine? Pandemonium. The Ministry of Agriculture and Forestry recently had to scramble to protect vital Kiwi interests.
New Supplier of UK Pineberry Plants
The rising star in the strawberry market, the pineberry, is increasing its reach. With more and more retailers, availability is increasing. Don't miss this new supplier of UK pineberry plants.
Iraqi Strawberry Plants Success Funded by USAID
Thanks to American taxpayers, we now have Iraqi strawberry plants success funded by USAID. Californian strawberry varieties and technologies have been exported are now profiting Iraqi producers.
Strawberries Help Prevent Ulcers
Do strawberries help prevent ulcers? New research seems to indicate that they do indeed serve a protective function in alcohol-induced ulcer formation. Read here for more information.
Organic Strawberries Not Really Organic
A regulatory loophole is presently allowing strawberry plant stock treated with chemicals to subsequently be labelled as organic. What you eat: organic strawberries that are not really organic.
Re-Visiting Methyl Iodide Use in Strawberry Production
Methyl iodide use in strawberry production is as controversial as ever.  As Yoda would say, use fumigant methyl iodide and poison strawberry you eat!  But, Yoda isn't the FDA.  And, the issue isn't settled – not even close.
Environmentally-Friendly Strawberry Plants
Environmentally-friendly strawberry plants? You bet! What better news could be had for strawberry lovers than to hear of the humble strawberry plant being used for clean up!
Health Benefits of Strawberries
The health benefits of strawberries go far beyond what most people think. Here you will come face to face with power of the strawberry. It is truly a remarkable fruit!
Franken Berry Monster Strawberries
Are Franken Berry monster strawberries coming to a shelf near you? The bubblegum strawberries just aren't natural. If they succeed, you can expect a much larger invasion of engineered fruit.
E. Coli Contamination of Oregon Strawberries
E coli contamination of Oregon strawberries occurred in August of 2011. Get the details, including the cause and source, here. Links to other strawberry information also.
Hurry: Fall Strawberry Plants
A friendly reminder that fall is an ideal time to plant strawberries if you would like to harvest a bountiful crop of berries during the first spring after the fall strawberry plants are planted.
Fewer Bees, Smaller Strawberries
Fewer bees, smaller strawberries? Evidently so, according to Canadian farmers. The bee shortage may be fueled by Colony Collapse Disorder, but strawberry lovers are the big losers.
Strawberry Fisetin Flavonoid Roundup
Welcome to the Strawberry Fisetin Flavonoid Roundup. Learn about the strawberry fisetin flavonoid here. Strawberries fight diabetes, the strawberry flavonoid helps.
Strawberry Compound Fisetin Could Help Diabetics
The strawberry compound fisetin could help diabetics, according to new research being done by the Salk Institute's Cellular Neurobiology Laboratory (CNL). Details here.
Spartan 4F Use on Wisconsin Strawberry Plants
New registrations for Spartan 4F use on Wisconsin strawberry plants are open to public comment at present. Do you prefer organic strawberries? Make your voice heard either way.
Last Chance for a Strawberry Festival
The 17th Annual Watsonville Strawberry Festival is your last chance for a strawberry festival for the 2011 strawberry festival season. Be sure to mark off this weekend for family fun!
Organic Strawberry Farming in the Philippines
Organic strawberry farming in the Philippines is promising yields higher than those obtained by strawberry farming using conventional methods. This article discusses.
Strawberry Plant Genome Sequenced
The strawberry genome research is finalized.  With the strawberry plant genome sequenced, work will continue to reveal insights into strawberry genetics and multple metabolic pathways.
Riverfront Renewal & Strawberries
Riverfront renewal & strawberries can go hand in hand. This post links and discusses what is happening in the Hudson community to bring revival and how strawberries are helping.
Strawberry Picking Season Nearing End
Strawberry picking season is ending.  Maximize the strawberry season and pick strawberries for all your favorite strawberry recipes while the getting is still good!
British Strawberry Plants Are Early!
British strawberry plants are early this year.  The increased sun and warmer temperatures have produced a crop of British strawberries that is sweeter, bigger, and ready now!
Organic Strawberry Farming in Bulgaria
Organic strawberry farming in Bulgaria is picking up steam.  Included amongst the organic produce grown by Italian pioneers are strawberries! News and details here!
Methyl Iodide & Strawberries
And the controversy rages on: methyl iodide & strawberries are either best friends or worst enemies, depending on who you ask.  Learn about methyl iodide strawberries here.
Strawberry Plants Grown in India
Strawberry plants in India?  Info on growing strawberries in India is here.  Indian strawberry plants & growing strawberry plants in India have a future.  Strawberry plants now successfully grown in India.