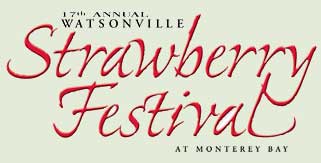 The last strawberry festival of the year happens this weekend.  If you are trying to figure out what you and the family can do this weekend in California, why not stop by the 17th Annual Watsonville Strawberry Festival at Monterey Bay?  The event will be held on August 6th and August 7th, 2011, from 10 a.m. until 7 p.m.  Admission is free, and the location is historic downtown Watsonville!
This event has almost two decades of fun under its belt, and participants never leave without having a tremendous amount of fund.  Events include delicious food, premier live entertainment, an exciting carnival, gooey strawberry contests, and other entertainment.
For many more details, be sure to see the official Watsonville Strawberry Festival page, and, for a idea of what excitement awaits, see this video from the the 16th Annual Watsonville Strawberry Festival held in 2010:
And, to plan ahead for next year, be sure to check out all the strawberry festivals on the main Strawberry Festivals directory!