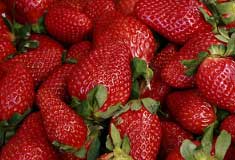 Last week Strawberry Plants .org introduced you to the exciting new research on the strawberry flavonoid fisetin and its potential positive health impacts.  Due to the interest and response to that post, I am posting more articles and news stories on the topic for your perusal.  This strawberry fisetin flavonoid roundup includes links from multiple different stories that discuss the ramifications and possibilities of the on-going research.
For a discussion of fisetin's anti-tumor and regulatory effects, see Flavonoids Apparently Treat Diabetic Problems and Nervous System Disorders on healthjockey.com.
For a snippet, see Strawberries Can Keep Diseases at Bay in the Khaleej Times Online
For more on fisetin and diabetes, see Strawberries Fight Diabetes as a medical breakthrough as reported by Ivanhoe.
For another snippet, see Strawberry Flavonoids May Promote Good Health in Mice With Imbalanced Blood Sugar Levels on DrCutler.com.
For more strawberry-related health information, see the Strawberries & Health category.