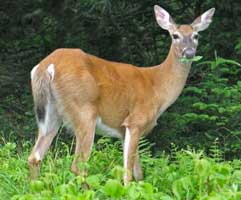 In August of 2011, an E. Coli outbreak was occurring in Oregon.  As public health officials got involved and the source of the outbreak was investigated, a local Oregon farm became the likely source.  The culprits and carriers, however, appears to be pesky deer.
Deer fecal matter was located on the farm, but even more interesting was the fact that the roadside stands and farmers' markets where the strawberries were sold were varied.  It is fairly safe to say that the ones selling the strawberries were not the original growers, but rather resellers.
This case emphasizes the need for prudence in food buying, knowledge of the sources from whence one's food comes, and the importance of careful and thorough washing of purchased produce prior to consumption.  And, of course, it is even better still to grow your own strawberries.  And, be sure to follow the buying guide if purchasing from any retail outlet.
For the entire story: Did Deer Cause Oregon's Strawberry Outbreak?