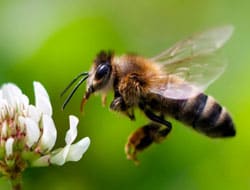 Most people have, by now, heard of "Colony Collapse Disorder," the devastating and not-fully-understood phenomenon of entire colonies of honey bees simply dying or "collapsing."  The reduction in the number of bee colonies have affected many growers whose crops are dependent on either natural pollination through local bees or the bee farmers who rent their hives out for a fee.
According to the The News, a Canadian news outlet serving Pictou County, local farmers have been having both deformed strawberries and small strawberries as a result of decreased pollination from bees.  If colonies of our winged friends continue to perish, this could be just one of many agricultural maladies that beset us.
Lets hope all is well in the bee world henceforth.  And, for the full story, click here: Berries Smaller Due to Bee Shortage.