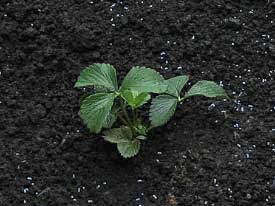 This is a question submitted to Strawberry Plants .org by a reader.  The information provided in response to the question may benefit others with the same or similar inquiries.  Therefore, it has been added to the archive page of submitted questions.  See the Strawberry FAQ for more questions, or use the search box at the top right of this page to search this site for information.
Q: When Is the Best Time to Transplant Strawberry Plants?
On May 24, 2010, Bud Alexis asked:
In all of your excellent information on strawberries, you failed to mention or I somehow overlooked as to the best time to take the runners (stolons) and transplant them elsewhere.  I also want to move the bed somewhere else and need to know the best time to transplant the rest of them.
Answer to: When Is the Best Time to Transplant Strawberry Plants?
Bud,
Hopefully, you will find the information you need in this post: Transplanting Strawberries.  It also details a transplantation system that is easy to implement and will keep your strawberry plants vigorous year after year.
Thanks for visiting!
Strawberry Plants .org exists to help spread the passion for growing and eating strawberries.  However, manpower is limited.  If you have a question related to strawberries, feel free to submit it or post is as a comment.  Please be patient, though, as it may take some time before your question is addressed.