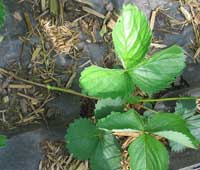 This is a question submitted to Strawberry Plants .org by a reader. The information provided in response to the question may benefit others with the same or similar inquiries. Therefore, it has been added to the archive page of submitted questions. See the Strawberry FAQ for more questions, or use the search box at the top right of this page to search this site for information.
Q: When to Transplant Hood Strawberries?
On July 25, 2010, Nancy McAuliffe asked:
I've been reading the articles on your website.  I have Hood strawberries.  It is the last week of July, and I want to move them to other beds.  It is best to move the whole plant, wait for the runners and plant them, and/or mow the bed at this time.  Thanks for any help.
Answer to: When to Transplant Hood Strawberries?
Nancy,
Thanks for stopping by Strawberry Plants .org!  My recommendation would be to wait another month or so and transplant them in late August.  This page may be of assistance and may help you accomplish the task successfully: Transplanting Strawberries.  Also, for a summary of year-round strawberry care that is broken down into monthly tasks, see the Monthly Growing Strawberries Guide.  And, of course, for the most comprehensive and detailed information, be sure to visit the Growing Strawberries reference page.
[ when to transplant hood strawberries ]
Strawberry Plants .org exists to help spread the passion for growing and eating strawberries. However, manpower is limited. If you have a question related to strawberries, feel free to submit it or post it as a comment. Please be patient, though, as it may take some time before your question is addressed.