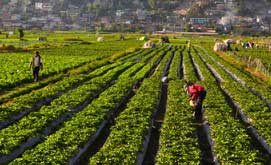 This is a question submitted to Strawberry Plants .org by a reader. The information provided in response to the question may benefit others with the same or similar inquiries. Therefore, it has been added to the archive page of submitted questions. See the Strawberry FAQ for more questions, or use the search box at the top right of this page to search this site for information.
Q: Single Season June-Bearing Plants?
On August 31, 2010, John asked:
I have heard of single season june bearing plants.  I am from California.  I was told there is no need to cover strawberry plants and that they are cheap enough to plow under the old crop and replant winter squash.  We are taking over the family farm and looking for alternatives in farming, but we never did strawberrys.
Answer to: Single Season June-Bearing Plants?
John,
You are correct: most large-scale commercial strawberry farms in California treat strawberry plants as annuals and replant every year. Having never commercially farmed strawberries, I'd recommend you check out this prior to taking the plunge: Strawberry Plants Library 0006.  These posts also might help you: short-day june-bearing strawberry plants, growing strawberry plants commercially, plasticulture strawberries, strawberry plants per acre, the matted row system.  I hope that helps!
[ single season june bearing plants ]
Strawberry Plants .org exists to help spread the passion for growing and eating strawberries. However, manpower is limited. If you have a question related to strawberries, feel free to submit it or post it as a comment. Please be patient, though, as it may take some time before your question is addressed.