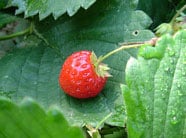 This is a question submitted to Strawberry Plants .org by a reader. The information provided in response to the question may benefit others with the same or similar inquiries. Therefore, it has been added to the archive page of submitted questions. See the Strawberry FAQ for more questions, or use the search box at the top right of this page to search this site for information.
Q: Strawberry Plants Producing Late?
On September 11, 2010, sira asked:
After mowing my june-strawberries in august, one plant began to produce strawberries.  Why?
Answer to: Strawberry Plants Producing Late?
sira,
That is a good question. True June-bearers typically won't produce strawberries after they set their harvest and are mowed/renovated. I guess it is possible that some strange genetic expression occurred that caused the plant to begin producing again, or the plant was confused by climate or environmental conditions. My next best guess is that the company that shipped the plants to you (or however you got them) accidentally mixed an everbearer or day-neutral plant in with the lot they sent you.  Whatever the reason, if your strawberry plants produce flowers after you have mowed or renovated in the future, it is best to go ahead and pinch off the flower buds.  For much more, see the Growing Strawberries reference page and the Strawberry Varieties reference page.
[ strawberry plants producing late ]
Strawberry Plants .org exists to help spread the passion for growing and eating strawberries. However, manpower is limited. If you have a question related to strawberries, feel free to submit it or post it as a comment. Please be patient, though, as it may take some time before your question is addressed.