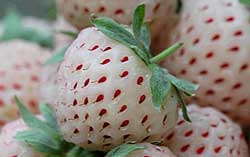 In the United States, just about every home gardener cuts his or her teeth with tomatoes and peppers when entering into the world of gardening for the first time.  And, for years afterward, those plants yield bountifully and are a productive stable.  For those gardeners who are ready to branch out, I have a suggestion.  Why not try planting pineberries this year?
Pineberry plants are not new, but they are new to most gardeners.  They have increased in popularity over the last several years since they were first sold in the UK commercially on a limited basis.  Now, these pineberry plants are readily available (click the links below).  What makes them special isn't their huge fruits or their enormous harvests, but the unique flavor and aroma.  They have natural pineapple accents!
So, if you have a spare square foot in your garden this year, you may want to consider planting pineberries.  For all the details you need regarding pineberry plants, pineberry seeds, and all things pineberry, see this post: Pineberry Pineberries.  The suppliers of plants are linked from that page and can also be found here: Pineberry.  And, if you are into unique garden plants, don't miss all the other varieties of White Strawberries available to you!