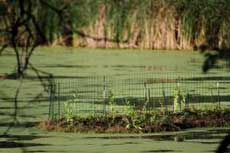 Just in case you didn't feel like there were already plenty of fantastic uses for strawberry plants, the delightful strawberry-producing forbs have been pressed into service…clean-up service.  Spring Lake in Minneapolis, Minnesota, has become home to man-made floating islands that are intended to improve water quality and, consequently, the environment.
The islands are floating atop recycled plastic bottles and have native plant species planted on top of the bottles.  The plants serve as a filter for the water and remove pollution.  The result is cleaner water, better habitats for the indigenous animal populations, and even tasty treats for birds.
Hopefully, the pilot program will prove a resounding success.  With success, it can be expected for the program to expand to more Minnesota lakes yielding cleaner water, better habitat conditions, and happy birds!
For the whole news release, see here: environmentally-friendly strawberry plants.