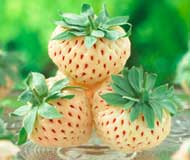 It is not common that a new, non-genetically modified food piques the interest of the population at large.  But, the delightful pineberry, with its pineapple-tinged strawberry flavor, has done just that.  Since its introduction several years ago, its popularity has done nothing but increase steadily.  In fact, its novelty is making its popularity soar.  A white strawberry with red seeds that tastes unlike any other strawberry?  Amazing!
While the pineberry was basically unknown prior to its commercial release in the UK, once it was released, the market has not been able to keep up with demand.  Even now there are relatively few suppliers of this unique, hybrid strawberry variety.  The suppliers, however, are slowly catching up with demand as both big and small players are getting in on the act.  In fact, there is a new supplier in the UK who is offering a pack of three potted plants for a very reasonable price at present.  You can see the details here: Pineberry Plants
For more history of the humble pineberry plant, suppliers in the United States and other countries, and to learn more about what makes pineberry plants so special, be sure to check out the StrawberryPlants.org reference article here: Pineberry Pineberries.