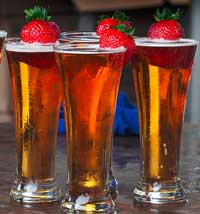 Most people are aware of the fact that eating fresh fruits and vegetables is generally good for health and longevity.  And, while strawberries are an immensely popular fruit, many people aren't aware of the extensive amount of compounds in strawberry plants that often possess medicinal properties.  New studies are discovering even more benefits of strawberry consumption on a regular basis.
One such new study has revealed that strawberry extracts actually prevent alcohol-induced ulcers.  One of the study's co-authors, Sara Tulipani of the University of Barcelona, has been attributed as saying, the positive effects of strawberries are not only linked to their antioxidant capacity and high content of phenolic compounds such as anthocyanins, but also to the fact that they activate the antioxidant defenses and enzymes of the body."  The study was published in the peer-reviewed scientific journal PLoS, and can be accessed here: Strawberry Polyphenols Attenuate Ethanol-Induced Gastric Lesions in Rats by Activation of Antioxidant Enzymes and Attenuation of MDA Increase.  Further summarized information can be viewed on EmaxHealth here: Strawberries Believed to Protect the Stomach from Alcohol Induced Ulcers.
Who knows?!  Maybe this discovery will increase the demand for strawberry wine.