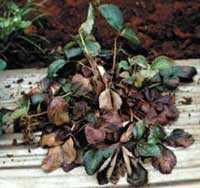 Anthracnose and Phytophthora are devastating strawberry pathogens that can cause significant crop loss in southern states, particularly states that grow the popular Chandler and Camarosa varieties.  Both are quite susceptible to infection.  Thanks to a grant from the U.S. Department of Agriculture, new research is being done that focuses on preventing infections with these diseases.
Spearheaded by North Carolina State University researchers, the research team is primarily investigating means of avoiding infection.  However, they are also looking into developing treatments for strawberry plants already infected.
This research underway to prevent strawberry diseases common to the two varieties mentioned above is promising.  Should the research team find a cure or a means to impute resistance to the plants, many growers in the southern states will be able to grow Chandler and Camarosa, as well as other varieties susceptible to crown rot caused by these pathogens, without fear of loss of revenue.  And, home gardeners will likely benefit also!
For the entire news release, see the original article in The Grower: Researchers Seek New Disease Control for Southern Strawberries