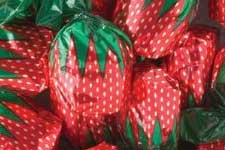 Synthetic flavorings and syrups and confectioner's sugar can't, in my opinion, compare to the delightful goodness of real fruits ripened on the plant and packed with all of nature's vitamins and minerals.  But, it can't hurt every now and then to enjoy the turbo-charged sweetness of some strawberry candy in lieu of the real thing.  Plus, you can buy some strawberry candy and leave it sitting around for months (as long as the ants don't find it) while you know what happens if you leave strawberries sitting around.
The following are the types and brands of strawberry candy that I know are available for purchase through the internet.  If you are a confectioner and would like to have your commercially available strawberry candy added to this list, just let me know.  I'll update the list to include yours.
Strawberry Hard Candy
Hard strawberry candy is a kid favorite.  From Halloween to stockings at Christmas to the time the new summer line of candy is displayed in your local super-store, the strawberry-flavored ones are quick to disappear.  The widespread appeal of the real thing has spawned tremendous variations of the synthetic "fruits."  And their popularity has resulted in spinoff candies galore.  Without further ado, here are some of the options available for you seekers of strawberry hard candy:

Arcor Juice-Filled Strawberry Hard Kosher Candy – this product is certified Kosher under the strict supervision of the Manchester Bais Din (certified Kosher under rabbinical supervision), and is a great option for practicing Jews.  No less tasty than other strawberry candies of this type, the juice-filled center provides an extra flavor burst.

Arcor Strawberry Buds – these candies come from Argentina in brightly colored sachet wraps which help reduce or eliminate the occasional candy-stuck-to-the-wrapper problem.  These confections are crystallized hard sugar-candy on the outside and viscous gel filling on the inside.

Brach's Strawberry Hard Candy – a fruity strawberry-flavored hard candy with a delicious, sweet strawberry candy filling.  The individual pieces come wrapped in a strawberry facade wrapper with the manufacturer's name emblazoned on the front.  A great choice for candy dishes and coffee tables come Spring!

Candy Tech Wrapped Strawberry Candy – similar to the Brach's variety listed above, these candies are the ones I remember growing up with as a kid.  Each pound has approximately 70 pieces of candy, individually wrapped in the metalized plastic wrapping resembling the strawberry fruit.  They are artificially flavored.

Colombina Strawberry Hard Candy – this one hails from the South American country of Colombia where it has been a favorite of children (and adults!) for years.  It is flavored to taste like strawberries and follows the most successful model for this type of candy: hard strawberry outer shell with a gooey strawberry center.

Sunrise Confections Strawberry Bon-Bons – these sweet treats come in a box of individually-wrapped candies that are 85% hard candy and 15% filling.  These morsels are made with real fruit extract from the original strawberries.  Each pound of candy will have approximately 68 pieces of yummy.

Strawberry Jolly Rancher Candy – while not one of the most popular flavors of the Jolly Rancher candy line, the strawberry Jolly Ranchers still can pack a taste punch that enlivens the tongue and spurs even the most sedentary taste buds to get up and dance every now and then.  So, don't overlook this flavor of this classic candy.
Soft Strawberry Candy (& Gummi Strawberry Candy)
Hard candy should be sucked and dissolved to avoid tooth damage.  But, if you are like many, NOT chewing the hard varieties requires a great exertion of will power.  So, if you want to avoid the temptation to chew the little rocks, you might be better off getting soft strawberry candy instead.  The gummi strawberry candy (or "gummy") can still deliver great taste while sparing you the dentist bill for a new cap or crown.  Try some of these soft strawberry candies to give your teeth a rest and your taste buds a treat:

Airheads Strawberry Taffy Candy – from gas stations to convenience stores to checkout aisles at Wal-Mart, Airheads are found easily enough and are familiar to most children.  Of course, there are many flavors available, but why get those when you can buy strawberry candy?!  Strawberry Airheads are the best-tasting of the Airheads.

Haribo Gummi Candy Strawberries – Ever since Hans Riegel started the Haribo company in Germany in the early 1920s, the popularity of its gummi candies has not ceased to increase.  These strawberry-flavored delights are considered to be an international favorite and are shaped like little strawberries.  There are approximately 78 candies per pound.

Wonka Strawberry Laffy Taffy Candy – the Oompa Loompas had a field day concocting this one in Willie Wonka's chocolate factory.  Ever since, good boys and girls all over the world have enjoyed unwrapping these treats…as much for the corny jokes printed on the inside of the wrappers as for the sweet taste!
Other Strawberry Candies
Do you know of any other strawberry candies?  Let me know!  Most probably fit in the above two categories, but there are new, odd creations invented each day around the world.  If you get a sniff of any that smell like strawberries and would fit better as an "other" type, be sure to let me know or leave a comment below!  The other strawberry candy list begins…now:

Paragon Magic Strawberry Cotton Candy Floss – while this one is not ready to eat when it arrives (or at least isn't intended to eat in its bottled format), every child who has ever been to the circus knows that cotton candy is a staple of circus fare.  So, why not relive the experience by making your own strawberry cotton candy?!