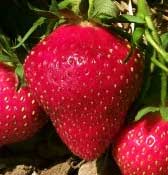 New strawberry varieties are constantly being developed.  Oftentimes, the improvements that are made through the breeding and selection process are somewhat significant, but small.  Or, only certain aspects of the desired traits are manifest while others are not passed on during the process.
The latest release from Cornell's berry breeder Courtney Weber is very noteworthy.  'Herriot' is the latest strawberry variety.  And, it is notably superior to Jewel, the previous leader in the strawberry world for mid-season, matted row, perennial strawberry beds.  In fact, Herriot's production exceeded Jewel's by up to 60%.  That is a significant improvement!
The variety is patented at present, but you can order plants from the authorized plant sellers, Daisy Farms and Krohne Plant Farms.  Reach them via this link.
And, if you don't want the latest, greatest strawberry variety to be released, there are a multitude of other varieties you can choose from on the Buy Strawberry Plants page.  But, it can't hurt to accept this new strawberry variety Herriot and plant it!
For the full story and more details, be sure to check out Cornell's blog post: New 'Herriot' strawberry: Tough plant, tasty fruit
New Strawberry Variety: Herriot