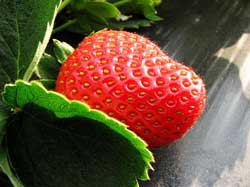 As the strawberry growing season starts to really ramp up, there are lots of experienced gardeners who know what they need to do to harvest a crop of bulging strawberries this year.  But, if you aren't completely confident about what to do and where to start, this quick guide to growing strawberries will walk you through the essentials.  Virtually everyone loves those delicious icons of taste supremacy.  So, if you haven't even considered growing strawberries yourself, why not take the plunge this year?  Learn how to grow strawberries in 10 easy steps!
Follow these 10 easy steps, and you should have the knowledge you need to have to walk confidently out to your garden and see happy strawberry plants.  From the planning and selection all the way to picking and preserving, this information will teach virtually anyone how to grow strawberries successfully.
How to Grow Strawberries in 10 Easy Steps
Walk through these 10 steps, and it is virtually guaranteed that you'll end up experiencing strawberry success:
1. Pick Which Type of Strawberry
There are three main types of strawberries: June-bearing, everbearing, and day-neutral.  Some people consider everbearing and day-neutral varieties to be the same thing, but they are actually different.  For a full discussion of each, see the Strawberry Varieties reference page.  In short, June-bearers have the largest fruit but only produce one big crop over a week or two.  Everbearers produce a larger early crop, smaller late crop, and a few berries in between, while day-neutrals produce throughout the growing season.  Everbearers and day-neutrals typically produce less and smaller berries overall than do the June-bearing varieties.
Considering these characteristics will determine which type is right for you.  If you want fresh berries throughout the year and don't mind picking smaller and fewer, go with a day-neutral or everbearing variety.  If you want sheer quantity of berries, go with a June-bearer (what most people do).
Considerations on how you plan to use your strawberries also come into play when determining which type to buy and plant.  If you want to can or preserve your harvest, it is easiest to accomplish your goals with the larger size and quantity that come from June-bearing strawberries.
2. Pick the Right Variety
Not all strawberry varieties are created equally.  Strawberries are temperate by nature and can be finicky as to what makes them happy.  So, thanks to decades of dedicated breeding programs, scores of specialized strawberry varieties have been developed and released.  The most generally-adapted cultivars have become quite popular, but the popular varieties might not be the best choice for your location.  To help you find which variety is suitable for your state/location, I have gathered the recommendations by state Extensions and compiled them in one place.  To be sure you get an appropriate variety, check the recommended varieties for your area and choose one suitable to your locale.
You may also want to extend your growing season by choosing early-, mid-, and late-season varieties.  Doing so can extend your harvesting period as follows:

And, if you have garden space, you might want to consider growing some novelty or specialty strawberries.  Pineberries are the latest to spark wide-spread interest due to their white color, red seeds, and pineapple taste.  Also, this season is also expected to be the first prominent one for the brand-new Purple Strawberries (not-GMO).  And, absolutely no strawberry variety tops the classic and diminutive Alpine varieties for sheer taste and aroma for specialty and gourmet recipes.  The possibilities are almost endless!
3. Pick the Right Quantity to Order
Part of learning how to grow strawberries is picking the right amount of plants to begin your patch.  Thinking through your goals and planned uses for your berries will guide your ordering/buying.  If you buy too many, you might be overwhelmed.  If you buy too few, you might be frustrated with the lack of berries when you need them.   Before you order, be sure to think about and study up on what you are going to need.  These resources should give you the information you need: How Many Strawberry Plants per Person, How Many Strawberries do Strawberry Plants Produce, and Strawberries per Day.
4. Buy the Strawberry Plants
Once you have settled on the type, variety, and quantity of strawberry plants, all that is left is to get the best possible deal on plants.  We've made it as easy for you as it can possibly be.  Go to the Buy Strawberry Plants page, click your chosen variety in the alphabetical table at the top.  That will take you to a list of every online nursery that offers your variety for sale.  Check the prices on each of your desired varieties and then order whichever offers you the best deal!  If you'd rather buy from a bricks-and-mortar establishment or nursery, see our directory of local Strawberry Nurseries.
5. Plant the Strawberry Plants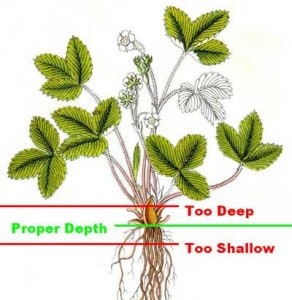 Whether you buy them at the store or order them online, as soon as you get the strawberry plants to your garden, get them in the ground as quickly as possible.  Strawberry plants have a thick section of tissue called the "crown" between the stems and roots.  Your plants should be planted so that the crown is even with the soil.  Plant them too high, and the roots dry out.  Plant them too low or completely bury the crown under the soil, and your plants will be much more likely to suffer injury or disease.
The time of year is a consideration in planting strawberries as well.  Most gardeners plant strawberries when the weather is warming up in the spring.  That is fine, of course, but planting in the fall has its benefits.  I won't go into those here, however, as this is mainly a guide for spring planting!
There are also multiple different ways you can arrange your strawberry patch.  Your growing system tends to determine how you plant.  For most gardeners, the easiest and most productive method is the matted row system.  You simply plant, let 'em go wild, and harvest abundantly!  Ok, that may be a bit oversimplified, but not by too much.  For the other systems, see the Growing Strawberries reference page, which is linked immediately below in the next section about on-going care.
6. How to Grow Strawberries: On-going Care
To maximize the vitality of your strawberry plants, and to help them put as much effort as possible into producing strawberries for you to enjoy, some on-going care is required.  To maximize the future yields of strawberries, it is best to snip the strawberry flowers during the first planting season.  This allows the roots to develop and will help your plants ratchet up future production.  Additionally, be sure to water them appropriately, fertilize with either conventional or organic fertilizers, and protect your plants.  For the details of how to do this effectively, be sure to review the appropriate sections on the Growing Strawberries reference page.
7. Harvest Your Strawberries
Strawberries are one of the first plants to fruit in the spring.  The strawberry harvest is heralded as a good omen in many locations, and numerous Strawberry Festivals celebrate the little red berries all around the country.  Picking your home-grown strawberries is rewarding and should be celebrated as well!  The temptation, however, is to pluck the fruits before they are ripe and to rip the fruit off at the calyx.  Both can be problematic.  Review the ripeness spectrum in the picture, and try to refrain from picking white-tipped or pale red fruits.  Stick to harvesting berries that look like the ones at the right, and you'll enjoy sweeter, bioflavonoid-rich, high-Vitamin C strawberries.

When it comes to actually separating the fruit from the plant, try not to grab the berry and pull.  Ripe fruits will be damaged by this technique.  Instead, use the nails of your thumb and forefinger to "snip" the stem holding the fruit.  The freed berry will roll gently into your palm without damage.  To see this illustrated, see the Strawberry Picking page.
Once harvested, shelf life is limited.  If you plan on using your haul fresh, be sure you know How to Store Strawberries.   If you plan on saving them for later use, move on to the next step!
8. Preserve or Use Your Strawberries
Like most garden plants, strawberries produce in season.  While the seasons vary, it is difficult to keep a plant producing all year (and, it is hard on the plants!).  So, taking the harvest and preserving them for future use makes a lot of sense.  Whether they are jammed, jellied, dried, or saved in some other form, most people love Strawberry Preserves.  If you don't have a traditional family recipe for strawberry preserves, feel free to use any of those!  Or, if you prefer more Fragaria delightfulness at a lower temperature, try one of the 8 main methods of Freezing Strawberries to preserve your harvest.  And, of course, be sure to use as many as you can in delicious Strawberry Recipes!
9. How to Grow Strawberries: Perennial!
One of the most fantastic aspects of the humble strawberry is the fact that it is perennial.  Plus, most varieties propagate like crazy, thus multiplying an initial strawberry plant purchase into more runner plants than you know what to do with!  To make sure your strawberries do well year to year, your beds need to be renovated after they are finished producing.  The how-to is here: Strawberry Renovation.  Additionally, to make the most of your plants' vitality, you can use a simple system to effectively Transplant Strawberries (there are actually several ways to Propagate Strawberry Plants).
10. Protect Your Plants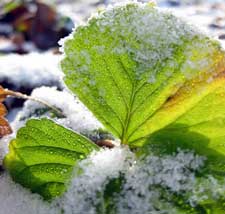 Strawberry plants are perennial, but can and do suffer cold injury in the winter if the temperatures drop too low, or if a warm spell is followed by another cold snap.  The final step in learning how to grow strawberries is to learn how to keep them alive year-to-year.  To adequately protect your plants, there are two main ways to keep them in a more hospitable environment: overwinter them in the ground or move them into a more protected place (if they are in containers).
To overwinter them in the ground, it is usually best to protect them with a mulch of some sort.  This most commonly done with straw, but can be done with other materials like recycled newspaper as well.  If you plan on leaving them in containers, see this guide on overwintering strawberries for how to do it.
How to Grow Strawberries: Conclusion
If you've made it this far, you are probably already committed and excited about growing your own strawberries.  But, if you are still on the fence, let me give you 10 reasons to grow your own strawberries this year!  Good luck, happy gardening, and feel free to use the comments to ask any questions you might have!