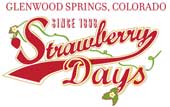 Strawberry festivals are a wonderful source of fun and excitement for kids of all ages and adults too! Strawberry shortcake, pageants, and a host of entertaining events make for a great weekend experience for families. As temperatures rise and summer fun begins, why not celebrate the end of school and the beginning of vacation with one of these fabulous June strawberry festivals?!
The festivals that are happening in June are listed below.  If you can't make one this year, plan ahead!  See the entire directory for the annual events.
Strawberry Festivals in June
PSBC Annual Strawberry Festival (Pine, AZ)
Pine Strawberry Business Community Strawberry Festival events include food vendors, crafts booths, specialty strawberry treats, activities for kids, and other entertainment. Previously held in conjunction with the Strawberry Patchers' Quilt Show and Strawberry Valley Blues Festival.  More info.
Strawberry Days Festival (Glenwood Springs, CO)
Events include a Miss Strawberry Days Pageant, live entertainment, parade, KidsFest, and other entertainment.  More info.
Cheshire First Congregational Church Strawberry Festival (Cheshire, CT)
Enjoy mouth-watering fresh strawberry shortcake, hot dogs, hamburgers, cotton candy, and other treats.  The Cheshire Community Band and the Cheshire High School Jazz Combo will perform live music.  Many activities for the young and young at heart including inflatable amusements, a petting zoo, toddler games, face painters and more!  More info.
Lyman Orchard's Annual Strawberry Fest (Middlefield, CT)
Events include free tastings of strawberry treats, live music, pie eating contests, horsedrawn wagon rides, and more great family fun!  More info.
Long Grove Strawberry Fest (Long Grove, IL)
The pleasures of summer are celebrated with "berry" wonderful strawberry-inspired treats. Strawberry lovers of all ages flock to Long Grove's renown fest to enjoy chocolate covered strawberries, fruit smoothies, and other strawberry drinks, ice creams, strawberry donuts, baked goods and, of course, the farm-fresh berries themselves.  Don't miss the Strawberry Pie Eating Contest, happening Saturday, June 23 and Sunday, June 24 at 2:00 PM. There will be a Celebrity Division for charity and a Rookie Division! The competition will feature delicious pies from M. Belle's Pie Shop & Café and Sunset Foods. Even if you're not competing, it will certainly be worth stopping by Towner Green to cheer on the competitors!  There is free live entertainment all three days at venues all over town and most of Long Grove's many shops, galleries, cafes, and restaurants offer variations of strawberry-themed foods, drinks, and merchandise. Fun for All Ages Strawberry Fest features plenty of activities and fun for children, including a variety of kiddie rides, face painting and outdoor activities and tents full of family and education-oriented products.  More info.
Christ Church Cathedral Women's Strawberry Festival (Indianapolis, IN)
The popular event utilizes more than 300 volunteers and serves an estimated six tons of strawberries and 18,000 homemade shortcakes.  More than 95 percent of the Strawberry Festival proceeds goes directly to local, national and international not-for-profit outreach groups.  More info.
Crawfordsville Annual Strawberry Festival (Crawfordsville, IN)
Events include a car show, tractor show, arts and crafts, numerous athletic events, food court, junior royalty pageant, live entertainment, and much more.  More info.
Rosedale Strawberry Festival (Rosedale, IN)
Events include daily free concerts from classic to contemporary; artists, crafters, and merchandisers; classic car, truck, motorcycle, and heap show; model trains and historic displays. Experience the fun of KidZone's no-lose games, adult challenges, rides for the youngsters, teen scavenger hunt, contests, and pageants. Also: a Jonah fish fry, spaghetti supper, Sunday breakfast and devotions, and, of course, a literal ton of scrumptious homemade strawberry shortcakes.  More info.
Farmington Strawberry Festival (Farmington, IA)
Held annually on the second full weekend in June. Events include pageant, pancake breakfast, free strawberries and ice cream, street dance, triathalon, Native American Gathering, cake walk, a clown, backyard circus, and much more.  More info.
Long Grove Iowa Strawberry Festival (Long Grove, IA)
Events include the Strawberry Stampede, children's footraces, strawberries, icecream and short cake, a quilt show, kids' games, tractor show, parade, food vendors, strawberry cooking contest, pageant, pony rides, petting zoo, tours of an authentic pioneer sod house, basket raffle, quilt raffle, and other entertainment.  More info.
South Berwick Strawberry Festival (South Berwick, ME)
The Strawberry Festival is a yearly event filled with entertainment, food, artisans and strawberry shortcakes! Our festival grows every year and manages to keep its small town country flavor boasting 20,000+ visitors each year. The Strawberry Festival is a non-profit event run entirely by volunteers. All profits raised are returned to non-profit groups in the community in the form of grants.  More info.
Topsfield Historical Society's Strawberry Festival (Topsfield, MA)
A great experience for the entire family! Games, food, shortcake and fine crafters, and a fife and drum march.  More info.
Belleville National Strawberry Festival (Belleville, MI)
Events include a raffle, bingo, food vendors, juried and crafter vendors, beer tent with entertainment, strawberry extravagamza desert in pole barn, pony rides, petting zoo, and other entertainment.  More info.
And, there are even more than these!  There are June strawberry festivals in the following states as well (click the state name to take you directly to the listing): Missouri, Montana, Nebraska, New Hampshire, New Jersey, New York, Ohio, Oregon, Pennsylvania, Rhode Island, Utah, Virginia, Washington, Wisconsin.
So, round up the family, hop in the minivan, and head out in June for some strawberry fun! Remember, if you can't make one of these events this weekend, there are dozens more events to come. June practically explodes with festival fun! the full list is here: Strawberry Festivals.