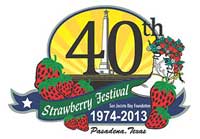 Strawberry festivals are a wonderful source of fun and excitement for kids of all ages and adults too!  Strawberry shortcake, pageants, and a host of entertaining events make for a great weekend experience for families.  As strawberry harvest season begins in earnest all around the country, the strawberry festivals coincide.  If you are looking for something to do this weekend, check out these strawberry events.  If you are are even relatively close to where one is occurring, consider making the trip!
The festivals that are happening this weekend are listed below.  However, even MORE festivals are going to be happening over Memorial Day weekend, so if you can't make one this weekend, see the entire directory for those happening throughout the rest of the year.
Strawberry Festivals This Weekend
30th Anniversary California Strawberry Festival (Oxnard, CA)
Saturday & Sunday, May 18-19, 2013: 10:00 am to 6:30 pm
Events included with paid admission: rides and shows in Strawberryland, exhibits and presentations in the Strawberry Promenade, and other entertainment. A shuttle is available.
Eckert's Strawberry Festival (Bellville, IL)
Saturday & Sunday, May 18-19, 2013: 9:00 am to 5:00 pm
This is the weekend to share with family and friends. And what better place to share it than the family farm! Enjoy outdoor festival foods and live entertainment at this old-fashioned all-American festival. Free wagon rides. Kid's activities include pony rides, children's play area, petting farm, carnival rides, and inflatable. Strawberry treats in the bakery, custard shop and restaurant! Fee charged for some activities. 9am – 5pm.  For more information call (618) 233-0513.
40th Annual Pasadena Strawberry Festival (Pasadena, TX)
Friday thru Sunday, May 17-19, 2013
The largest event in Pasadena, home of the World's Largest Strawberry Shortcake, Mud Volleyball, Carnival, BBQ cook off, specialty acts, Main Stage Entertainers, arts & crafts proceeds fund scholarships and TX history projects.
West Virginia Strawberry Festival (Buckhannon, WV)
Wednesday thru Sunday, May 15-19, 2013
Children and adults alike will enjoy the fun and thrills of the carnival. Take a stroll through the arts and craft exhibits, quilt show, photography show, or the souvenir shop. Enjoy the variety of Jaw Bone Park and Courthouse entertainment or stop by the band competition, car show, strawberry auction, or your favorite sporting event. You won't want to miss the huge block parties of entertainment on Main Street on Friday and Saturday nights.
So, round up the family, hop in the minivan, and head out this weekend for some strawberry fun!  Remember, if you can't make one of these events this weekend, there are dozens more events to come.  June practically explodes with festival fun!  Find one near you here: Strawberry Festivals.