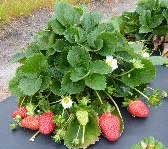 Florida residents will be noshing on two new varieties this year.  Researchers with the University of Florida's Institute of Food and Agricultural Science has released two new strawberry varieties: Winterstar & Florida Sensation.  Winterstar originated from a 2005 cross between the Florida Radiance variety (female parent) and Earlibrite (male parent).  Florida Sensation is similar, but superior to Florida Radiance.
For more information on the Winterstar variety, see the official release page (or .pdf).
For more information on the Florida Sensation variety, see this article in the Southeast Farm Press.