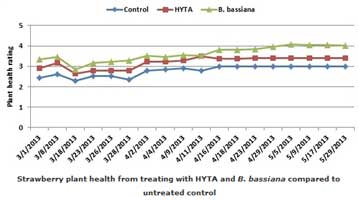 If you mention fungal infections to strawberry farmers, you will likely watch as faces either go pasty white with fear or purple with rage.  Fungi can wipe out whole fields of strawberries leaving the farmers with nary an avenue of recourse but to treat and replant with a more hardy variety of strawberry.  With the phase out of methyl iodide (and the banning of other fumigants that were used to wipe out fungus spores) due to public concerns and possible health impacts, strawberry farmers are looking for other ways to control or eliminate losses due to pathogenic fungal infection.  Using coconut coir as a growth medium and anaerobic soil disinfestation both may be used more widely in the future.  Another option may become viable at a time yet future as well.
When most people think of companion planting, they think of planting synergistic plant species in proximity to one another to maximize the beneficial interactions.  But, as it turns out, the mycologists may have a new reason to celebrate.  While many people have been using mycorrhizal fungi for many years to grow large garden plants, strawberry farmers have often tried to completely eliminate all types of fungi from interacting with strawberry plants because of the aforementioned detrimental effects that many of the microorganisms inflict on Fragaria species.  The University of California has fired the first salvo in changing that preconceived notion, however.  A recent study has shown that certain entomopathogenic fungi can be used with strawberry plants to kill mites and other strawberry pests while leaving the strawberries unharmed.
Fungi such as Beauveria bassiana, Isaria fumosorosea, and Metarhizium brunneum will kill mites and insects and can be used for pest management.  Some of these are known to endophytically colonize plants and offer protection against arthropod pests feeding on those plants, and they may also provide protection against other pathogens.  In the trial conducted by the University of California, there were no pest infestation problems in the fungi-treated plants, other than a few aphids.  For the complete story and more details, see the summary article here: Entomopathogenic fungus, Beauveria bassiana promotes strawberry plant growth and health.