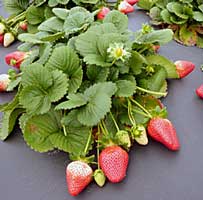 Diabetes can be a particularly pernicious problem.  As virtually all the cells in the human body require glucose to function, and diabetics have biological difficulty getting that sugar to go where it ought (inside the cells to be used), any new development that aids in the amelioration of the symptoms of said condition can be a boon to ailing individuals.  Interestingly enough, strawberries may hold a key to satiate the cravings of hungry insulin-disadvantaged people while keeping their hemoglobin happily hauling hefty amounts of oxygen instead of glucose.
Researchers have identified six volatile compounds in strawberries that mediate the perceived sweetness of strawberries.  What is more interesting, however, is that those compounds show potential to increase the perceived sweetness of foods independent of the quantities of sugar contained therein.  Unlike artificial sweeteners like aspartame and sucralose (Splenda) that have had controversy swirling around their use since their FDA approval, should the six volatile sweetness-enhancers in strawberries be isolated and stabilized, the potential benefits to both the health care fields, dieticians, and even the strawberry industry are quite significant.
Strawberries on the Verge of Helping Diabetics
The compounds in question could help diabetics particularly, but also might benefit those struggling with blood pressure, obesity, and other health maladies.  Dieticians could use them, potentially, in crafting even more enjoyable tailored plans for clients.  And, the strawberry industry would no doubt begin breeding programs to select for cultivars containing ever-increasing levels of the volatiles.  The result?  Happier strawberry consumers across the spectrum of individuals who love to nibble a nice plump one every now and again.
The USDA funded study was published in the PLOS ONE journal, and the abstract can be accessed here.
Are strawberries on the verge of helping diabetics live better? Very possibly.