* Cookbook Format: Digital Download
Strawberries are small. The strawberry business, however, is huge. In the United States alone, growing the fine red fruits is a multi-BILLION dollar industry.
Obviously, you are not alone in your enjoyment of strawberries! In fact, virtually everyone loves their distinctive flavor and aroma. Even the thought of the juicy burst that comes as one bites into a ripe one is enough to set the mouth to watering. Ever since the first known description of a strawberry plant was recorded in 1454, their fame has spread around the globe. Doubtless, they were enjoyed by the native peoples inhabiting the temperate regions of our globe even long before then.
Like most whole fruits, strawberries provide a bounty of nutrition for the hungry body. We have not yet fully realized the health benefits that come from consuming strawberries, but we do know quite a bit already. The beneficial health-supporting nutritional components are numerous…
STRAWBERRIES ARE HIGH IN VITAMIN C
Just one serving of strawberries gives you 141% of the Recommended Daily Allowance of Vitamin C. Everyone knows Vitamin C is important, but the specific benefits that can come from the Vitamin C in strawberries are extensive. A recent meta-study that was published in Seminars in Preventative and Alternative Medicine reviewed over 100 studies across ten years and came to some inspiring conclusions:
Vitamin C is an indicator of overall health. Study researcher Mark Moyad, MD, MPH, of the University of Michigan, concluded, "Higher blood levels of vitamin C may be the ideal nutrition marker for overall health." That is not an understatement as…
Vitamin C protects you from cancer, stroke, deteriorating eye health, and cardiovascular disease. The study also showed that it helped increase life spans and boosted immunity. In fact…
Vitamin C even helps the common cold. Eating strawberries while under the weather won't cure you, but he Vitamin C you get from them is also thought to prevent more serious complications from developing. Additionally…
Vitamin C has vast other health benefits. New evidence is emerging that Vitamin C also has a host of other potential benefits when ingested. In addition to providing protection against immune system deficiencies, it also may encourage health by preventing prenatal problems and even protecting against skin wrinkles!
STRAWBERRIES ARE RICH IN MINERALS AND VITAMINS
Trace minerals are involved in the myriads of enzymatic reactions that keep your body running day to day. If you run out of minerals, your body stops working correctly. Vitamins are hugely important too. Strawberries have them in droves:
Strawberries are loaded with vital trace minerals. They have potassium, phosphorus, calcium, magnesium, sodium, iron, manganese, zinc, copper, and selenium. All of which are important to normal body function.
Strawberries are packed with vitamins. In addition to Vitamin C, they have an abundance of thiamine, riboflavin, niacin, pantothenic acid, Vitamin B6, Folate, Vitamin B12, Vitamin A, and Vitamin E.
STRAWBERRIES HAVE OTHER NEEDED BIOLOGICALLY-ACTIVE COMPOUNDS
You probably have heard about vitamins and minerals your entire life. But, those classes of molecules aren't the only beneficial ones you get from the strawberry fruits you eat. There are other important ones as well:
Strawberries have 18 different amino acids. Amino acids are the building blocks your body uses to make proteins. Proteins are what make up the structure of your muscles, organs, and the rest of your body too!
Strawberries are loaded with flavonoids. Flavonoids are biologically active components your body uses to facilitate its normal functioning. For context, beta-carotene is probably the most famous flavonoid.
Strawberries contain fisetin. Fisetin is a specific polyphenol flavonoid that has recently made a stir in the medical community. It has been shown to have anti-cancer activity in laboratory studies, and has shown to increase glutathione levels, one of the body's most powerful antioxidants. Furthermore, fisetin may promote healthy brain function as we age and prevent organ damage in diabetics.
Those are BIG benefits from such a small berry!
The biggest reason that people like strawberries, though, is because of their one-of-a-kind taste. Not only do they taste heavenly, they also have a strong taste. They can help turn a bitter kale and spinach smoothie into a delightfully tasty one as well.
But, there are a few problems with the wonderful strawberry. Although they are a world-wide favorite, they don't have a peel like bananas or other tough outer skin like a pineapple or a hard shell like a coconut. Strawberries are, in fact, not even a true berry. The distinctive red color is actually just accessory tissue to which achenes (the small specks on the outside of the fruit we call "seeds") are affixed. The accessory tissue that composes the "strawberry" is soft, easily bruised, and generally isn't very tough or durable.
This means strawberries are damaged exceptionally easily and have a very short shelf life, even when refrigerated. Who hasn't opened a carton of strawberries to find mold invading every nook and cranny?
And that is where StrawberryPlants.org can help you! For a limited time, you can get the last cookbook you will ever need for your strawberry culinary creations. You can say "sayonara" to mushy, too-old, moldy strawberries forever. With this cookbook, you will have the tool you need to make sure you never waste your hard-earned money. You will never again lack for a way to use your strawberries before they turn to moldy mush. After all, you don't get any of the health benefits from strawberries if the ones you got go bad before they get eaten!
Say "goodbye" to mold and mess, and say "hello" to…
The Simply Sensational Strawberry Recipe Book!
Here at StrawberryPlants.org, we don't mess around with lesser fruits. Our expertise is focused on the strawberry, and we exist to spread the passion for the finest fruit as far and wide as is possible. We have eaten more than our fair share of strawberries and strawberry-containing dishes. And, we've collected over 100 of the best ones throughout the years into one place: The Simply Sensational Strawberry Recipe Book.
Unlike other cookbooks where you have to hunt through the index to find what you want, there are no surprises inside this mother of all strawberry collections. To be included in this recipe cookbook, every recipe had to meet three basic requirements…
The recipe had to be SIMPLE. There may be a few master chefs out there who know every possible kitchen term and enjoy making normal folks get blank expressions as they chat about their food masterpieces, but those egos can go elsewhere. These recipes are for normal folks. You'll be able to understand and follow all the simple instructions, one at a time, until you've finished. Barely anyone likes spending days upon days slaving away in a sweltering kitchen either. So, the recipes are all intended to be simple enough to complete in a reasonable amount of time…just like busy people require.
The recipe had to be SENSATIONAL. Few things are as depressing as spending a lot of time and creative effort making something grand, only to have the final product be awful. These recipes are guaranteed to be good! If they weren't satisfyingly and sensationally delicious, they weren't included. The best of the best and the tastiest of the tastiest are all you will find included.
The recipe had to be STRAWBERRY. Of course, the ingredients are tremendously varied when taken as a whole, but one common thread unites them all. Whether the recipe is served hot, warm, or cold or baked or frozen, every single one calls for strawberries in one form or another! What more could you ask for?!
So, you might be thinking, "How in the world does such a cookbook exist? Are there even more than 100 ways to use strawberries?" Of course there are! The Simply Sensational Strawberry Cookbook has beverage recipes (shakes, smoothies, teas, and more!), breads recipes (strawberry bread, muffins, crepes, pancakes, and more!), preserves recipes (jams, jellies, etc.), salad recipes (fruit, vegetable, and other exotic salads too!), salsa recipes, soup recipes, more strawberry dessert recipes than you can imagine, and other recipes so unique that they defy categorization!
It took countless hours to track down and compile all of these unmatched recipes into one location. The value contained in this one book is easily worth over $100.00. That is less than $1.00 per screened and filtered recipe! But despite the fact that it may be worth that, I'd rather get it into your hands so that you can enjoy the finest fruit on the planet more perfectly.
So, for the next 12 hours, I will give you a deal that may be difficult to believe. You can get The Simply Sensational Strawberry Cookbook for less than half its value. In fact, you can get it for less than a fourth of what it is worth.
If you buy within the next 12 hours, The Simply Sensational Strawberry Cookbook is available for only $11.97! That is a couple of lattes at Starbucks or a single movie ticket! You can find that much under the cushions of your couch. Since it is borderline ridiculous to offer such a unique and wonderful cookbook for such a low price, you ONLY have 12 hours. This isn't an introductory rate. If you wait, the price doesn't go up later. The offer goes away completely. This is your chance to get yourself a copy of this one-of-a-kind resource. I really want this cookbook in the hands of people excited about strawberries. It may not be for you at all, and that is completely ok! But, if you want maximum flavor with minimum fuss, your time is ticking.
I am so confident that this cookbook is in a class by itself, I want you to own it. I know it will meet or exceed your expectations, so it comes with a 100% hassle-free guarantee. If you aren't COMPLETELY SATISFIED with it, for ANY reason, you will promptly be issued a full refund upon request within 90 days. No questions asked. You can buy the world's greatest strawberry cookbook with absolutely no risk whatsoever. If it doesn't live up to your expectations, you get 100% your of money back. It's that simple.
Plus, if you order before time runs out, you will also get a full manual that teaches you how to grow your own strawberries COMPLETELY FREE.
THE STRAWBERRY GROWING MASTER MANUAL
The Strawberry Growing Master Manual compiles expert advice with years of firsthand experience and will teach you everything you need to know in order to successfully grow your own strawberries. This 100+ page handbook is simply written and easy to understand. It will walk you through every step, whether you germinate your own strawberry seeds or start with strawberry plants. It will help you pick how many plants you need, which types and varieties to plant, where to plant, how to plant, how to take care of your plants, and how to protect and multiply your plants. Strawberries are perennial, so with a little bit of wisdom, you can grow bushels of your own strawberries! What better to include with The Simply Sensational Strawberry Cookbook than an all-inclusive how-to manual that walks you step-by-step through all the details of growing your own strawberries?!!
Nothing beats freshly picked ripe strawberries. The manual will get you growing your own quickly. You can pick your berries and be using them in the recipes immediately after. It doesn't get any fresher than that!
If you order before time runs out on this offer, you will also receive FOUR COMPLETELY FREE Special Reports in addition to the Strawberry Growing Guide and The Simply Sensational Strawberry Cookbook.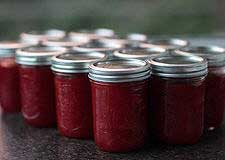 SPECIAL REPORT #1: Jam Secrets
Everyone has their mother's or grandmother's strawberry jam recipe. Even if you never try the superior jam recipes in The Simply Sensational Strawberry Cookbook out of loyalty to your predecessors, there are a couple of tricks you can apply to any jam to make things go well with your efforts. These Jam Secrets will be included in this COMPLETELY FREE Special Report.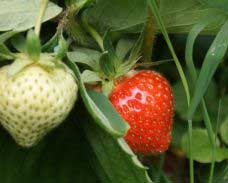 SPECIAL REPORT #2: Recommended Strawberry Varieties
Not all varieties of strawberries will do well where you live. Strawberries have been bred for decades and developed and selected to perform across different climates and locations. This special report will get you started on the right foot by matching your location with a variety well suited for it. Whether you live in the United States of America or Canada, this COMPLETELY FREE Special Report has you covered.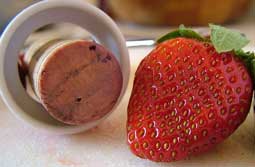 SPECIAL REPORT #3: Best Strawberry Varieties for Making Wine
As any vintner will tell you, not all grapes are equally well-suited for making wine. Neither are all strawberries equivalent. The Simply Sensational Strawberry Cookbook will guide you through the wine-making process. This COMPLETELY FREE Special Report will aid you in selecting the perfect varieties for an unsurpassed finished product.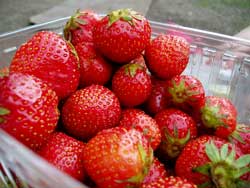 SPECIAL REPORT #4: Strawberry Buying Guide
Strawberries have a relatively short shelf life, just as is mentioned above. The last thing you need to do when getting ready to make a delicious strawberry dish is buy bad berries at the store. Not only is it a waste of money to open a package of strawberries and find that most are unusable, but it can be hazardous to your health as well. Many types of mold can make you sick. This COMPLETELY FREE Special Report will aid you in navigating the pitfalls of purchasing your strawberries off the grocery store shelf or from the back of a pickup truck at the local farmers market or fruit stand.
So, for the NEXT 12 HOURS ONLY, you can get The Simply Sensational Strawberry Cookbook with the full Strawberry Growing Guide and all 4 Special Reports included at no additional cost for the one-time price of $11.97. You won't find a better deal on this much strawberry information anywhere!
And, don't just take my word for it.
A.F. from Pennsylvania says, "This cookbook is the best collection of strawberry recipes I have ever seen! It is a true treasure trove for niche cooks like me or anyone looking to use strawberries to sweeten up their repertoire in the kitchen."
And…
P.B. from Michigan says, "I absolutely loved the unique recipes in The Simply Sensational Strawberry Cookbook. Some of them are new family favorites. We especially loved the Strawberry King Pie!"
Don't miss this opportunity. The offer only is available to you for 12 hours. Click now to take advantage of this great deal!