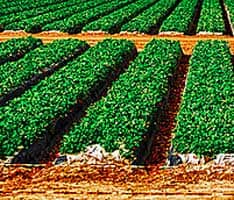 29 percent of the world's strawberries come from one single place: the state of California in the United States.  Almost a third or every succulent red sweet fruit is grown in the vast acres of strawberry plants in the fertile land out west.  A major problem with strawberries, however, is that they succumb to all manner of pests and pathogens.  Diseases are of particular nuisance to farmers.  To eliminate pathogens and fungi that affect strawberries and are almost ubiquitous, strawberry farmers have been sterilizing soil that is subsequently used to grow strawberries for almost half a century.
But, the major fumigants uses are methylated halogens.  Methyl bromide, a particular popular one, was found to be a contributor to ozone depletion and was banned in 2005.  Due to the difficulty in finding alternatives, the strawberry farmers have been able to get waivers to continue using the powerful chemical fumigant.  However, the waivers are set to end altogether in 2016.  So, growing strawberries with new techniques is going to be necessary.  And, there just may be a viable option coming to fruition soon.
Researchers are continuing to try to find disease resistant strains and breed them into a super-strain able to withstand the vast majority of pathogens currently dispatched by fumigation techniques.  That process is a slow one, unfortunately.
Another option is a technique called anaerobic soil disinfestation.  Anaerobic soil disinfestation is a method using anaerobic bacteria.  The method is not a one-shot-kills-all like soil fumigation is, but it does have potential.  And, the great aspect of the new anaerobic soil disinfestation techniques is that they are organic.  Eschewing the chemicals in favor of "healthier" options is growing in popularity with many Americans.  As such, any techniques that allow for resistance of disease and continuation of massive strawberry harvests will be a boon to farmers in California and elsewhere.  Growing strawberries with new techniques is discussed in this article, for those interested.