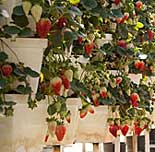 Water is often taken for granted…until you don't have enough.  The fertile swath of the United States that is California has been a food-producing machine for decades.  But, all that produce and nuts and fruits needs a hefty quantity water to grow into the juicy and plump table-ready mature products.  And, the rate at which water has been utilized to facilitate the agricultural pursuits of Californian farms and other western farmers has sapped critical reservoirs of water.
Aquifers are drying up.  There era of cheap access to water may be coming to an end for some of the most fertile and farm-friendly climates and locations in the United States.  Because of the necessity of water utilization in farming, farms are looking to beat the drought by developing more water-conscious growing systems.  One such system has been utilized in the Temecula Valley to successfully grow strawberry plants for years now.
Hydroponic Strawberry Farms Adapting to Water Shortage
Three years ago, a vertical hydroponic strawberry growing system was installed for the first time in California, and the results have been favorable.  The system is still in use a third of a decade later, which figures positively in the assessment of commercial viability for non-traditional pick-your-own farms.  As water resources become more scarce, as the general consensus seems to indicate will be the case, more innovation will likely result in even greater conservation of water.
For the full story of hydroponic strawberry farms adapting to water shortage, see here.
While hydroponic strawberry farms face different challenges than conventional ones, there are several advantages to this type of vertical hydroponic growing strawberries.  This is especially true of pick-your-own operations.  Usually, strawberry farms plant in rows and have individuals stoop or kneel for hours as they pick.  Vertical hydroponic strawberry farms allow picking with minimal stooping, which is much easier on backs and knees!