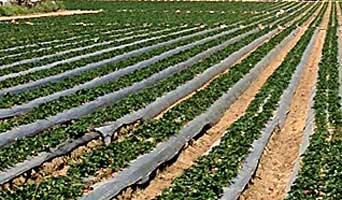 The strawberry business is booming.  Strawberry production in 2017 has already surpassed the year's total for 2016 in the state of California.  And, since California is the largest single producer of the tasty fruits in the entire world, it is likely that worldwide strawberry production is up as well.  As Tim Hearden reported in the Capital Press, the crate production in California is up to 197.3 crates through November, which surpasses the 2017 total by 0.5 million crates.
Strawberry Business Overcomes Weather
What makes the 2017 haul even more remarkable is that unfavorable weather dominated for extended periods this year.
The early winter months of 2017 were soggy and wet.  In fact, this past winter was one of the wettest yet recorded.  However, the rain proved to be a boon to the plants, washing out the accumulated salts in the top layers of soil.
The valleys of the inland also suffered through scorching periods of heat during the summer months.  Normally, the wet weather and blistering heat would have resulted in a significant drop in overall production, not the recorded increase.  So, what gives?
Reasons for the Booming Strawberry Business
Despite planting fewer acres in strawberries, the increase in production can largely be contributed to two factors.  First, growers have moved to better, improved strawberry varieties.  The newer varieties are hardier, better suited to the Californian climate, and supply greater yields per acre.  These strawberry varieties are products of the dedicated research teams that spend years growing and selecting and testing new varieties prior to their release.
Another significant factor that has continued to reverse the previous downward production trend in 2017 is the fact that the half-decade of drought ended this year.  As mentioned previously, the increase in rain was a significant factor in supplying water and flushing drought salts from the tillage.  The rain and the well-suited strawberry plants can take most of the credit for the increase in strawberry production.
The Future is Bright for Strawberries
The strawberry business will have to continue to ramp up production to keep up with demand worldwide.  New doors are opening for expanded strawberry consumption in overseas markets, especially China.  Domestic demand is chugging right along too.  A recent survey of primary grocery shoppers confirmed the enduring status of strawberries as "America's Fruit."  Almost 1/3 of ALL shoppers identified strawberries as their favorite fresh fruit, which handily beat bananas and watermelons (second and third, respectively), both of which came in at under 10%.
For more information, see the article in the Capital Press.
And, if you want to begin your own strawberry patch, be sure to learn all you need to know here: Growing Strawberries.