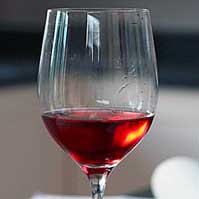 Many an aspiring vintner longs for a hillside covered with prestigious grape varieties and secret fermenting techniques and formulas that yield vintages known around the world as superior to lesser products.  But, the combination of soil, climate, sun, and advanced equipment is beyond most normal folks' ability to procure or maintain.  But, that doesn't kill the dream.  And, it shouldn't!  In fact, it is fairly easy to make your own wine, especially if you give strawberries a try.  The bounty of the humble strawberry plant can be prolific, and its sweet aroma makes for an easily-available, easy-to-grow, and satisfying wine.  The most popular strawberry wine recipe on StrawberryPlants.org is also available for your wining and dining, but this page hosts an alternative strawberry wine recipe that is just as simple and straightforward.  Try them both, and see which works best for you.
And, of course, don't forget that this is just one of many extraordinary recipes available for your enjoyment on StrawberryPlants.org. There are even other strawberry drink recipes, of course! If you are looking for other culinary uses for your extra strawberries, be sure to see the complete Strawberry Recipes section.
Alternative Strawberry Wine Recipe
As always, remember that this beverage must be consumed responsibly.  Never drink and drive! 
Alternative Strawberry Wine: Ingredients
4 pounds of strawberries (strawberries can be substituted, conversions here. You can also freeze your own)
1 gallon of water
2 pounds of sugar
1 tablespoon of acid blend
1 tablespoon of yeast nutrient
1/2 tablespoon of peptic enzyme
1/2 teaspoon of grape tannin
1 pack of wine or champagne yeast
Campden tablets
Alternative Strawberry Wine Recipe: Directions

First of all, you can obtain all of the supplies above from Amazon.com if you do not already possess them.  Then…
Wash and hull the strawberries.  Fill a straining bag with strawberries, and tie the bag off.  Once tied, crush/mash the strawberries until they are pulpy.  Place the straining bag into a clean and sterile bucket, then add all the ingredients except the yeast and campden tablet.  Before adding the yeast, you will need to sterilize the must by crushing up and adding the campden tablet to the mixture.  The initial amount of sulfur dioxide will be approximately 67 parts per million (ppm), but will diminish rapidly and is insignificant by the time the wine will be consumed.  After adding the campden tablet, stir well and cover.  Allow the must to sit for a full day (24 hours).  Then, add the wine yeast.  Stir every day for one week.  After a week, siphon into a clean container or jug and place a rubber stopper or other seal to create an airlock.  Siphon every two weeks thereafter, adding 1 crushed campden tablet each time you rack.  Bottle when the wine is clear.
After bottling, it is recommended that you wait a full 3 months prior to consuming for best results.
Additional Notes on this Strawberry Recipe
Just like grapes, all strawberries are not equal when it comes to making wines.  Due to the fact that most commercially available strawberry varieties are still delicious, there is not nearly as much significance placed on the variety of strawberry used to make wine.  However, for best results, you should select one of the best strawberries for making wine. Plus, just like most of the other Strawberry Recipes, this one can be easily modified. For varied tastes, try adding a few blueberries, blackberries, or other exotic fruit. Experiment and find what works well for you and your unique taste sensibilities! For those conscious about the amount of refined table sugar they consume, feel free to try organic evaporated cane juice crystals, turbinado, sucanat, honey crystals, brown sugar, or even stevia to give unique and varied accents to this quick strawberry recipe.
Be sure to post a comment about your experience below, and others will benefit from your experiences!
Enjoy!