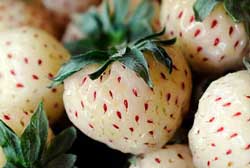 This is a question submitted to Strawberry Plants .org by a reader. The information provided in response to the question may benefit others with the same or similar inquiries. Therefore, it has been added to the archive page of submitted questions. See the Strawberry FAQ for more questions, or use the search box at the top right of this page to search this site for information.
Q: Are Fragaria vesca Strawberries the Same As the Pineberry?
On May 20, 2013, Eva asked:
My dad got me some pineberry seeds that he bought online, can i grow them? and if so how
BTW it says on it its Fragaria Versca.
Answer to: Are Fragaria vesca Strawberries the Same As the Pineberry?
Eva,
You can grow those seeds, assuming they are viable. Fragaria vesca is, however, not the same thing as the Pineberry. With the popularity of the Pineberry increasing because of its unique qualities, some less scrupulous people are renaming any white strawberry they find as the Pineberry. Pineberries are a hybrid (Fragaria x ananassa), and will not grow true from seed. Fragaria vesca is more commonly known as the Alpine Strawberry, WILL typically grow true from seed, and IS NOT the same thing as this Pineberry. For help on how to grow strawberry plants from seed, see the Strawberry Seeds reference page.  And, of course, good luck with growing your strawberry plants!
[ how big are pineberry plants ]
Strawberry Plants .org exists to help spread the passion for growing and eating strawberries. However, manpower is limited. If you have a question related to strawberries, feel free to submit it or post it as a comment. Please be patient, though, as it may take some time before your question is addressed.