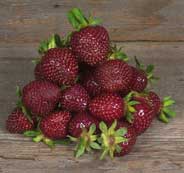 This is a question submitted to Strawberry Plants .org by a reader. The information provided in response to the question may benefit others with the same or similar inquiries. Therefore, it has been added to the archive page of submitted questions. See the Strawberry FAQ for more questions, or use the search box at the top right of this page to search this site for information.
Q: Are Purple Wonder Strawberries GMO?
On June 6, 2012, Lucky asked:
Just recently I've purchased some Purple Wonder plants from Burpee, and i have one quick question: are they GMO'd??? Thanks!
Answer to: Are Purple Wonder Strawberries GMO?
Lucky,
Fortunately, Purple Wonder strawberries are NOT genetically-modified.  They were selected in 1999 by Courtney Weber, a small fruits breeder at Cornell University, and released in March of this year (2012).  Unlike some strawberries which are being modified for dubious purposes, you can consume these without any concerns of genetic tampering.  For the full story on these, see the post on Purple Strawberries.  And, for another unique non-GMO strawberry variety, check out this post: Pineberry Pineberries.  Are purple strawberries GMO? Not yet!
[ are purple wonder strawberries GMO ]
Strawberry Plants .org exists to help spread the passion for growing and eating strawberries. However, manpower is limited. If you have a question related to strawberries, feel free to submit it or post it as a comment. Please be patient, though, as it may take some time before your question is addressed.