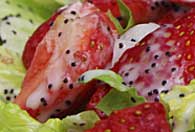 You might say, upon careful observation, that salads are nearly ubiquitous.  You'll find them at potluck dinners.  You'll find them at 5-star restaurants.  You'll find them served for dinner at your friends' houses.  You'll even find rabbits helping themselves to an unprepared salad in your burgeoning garden (little devils!).  What you won't always find is a salad that combines its components with a dressing that amplifies the experience exponentially.  THAT kind of salad is hard to find.  Well, rejoice, for you have stumbled across one such salad.  This balsamic strawberry salad recipe just might make you squeal with delight.
And, of course, don't forget that this is just one of many extraordinary recipes available for your enjoyment on StrawberryPlants.org. There are even other fantastic strawberry salad recipes! If you are looking for other culinary uses for your extra strawberries, be sure to see the complete Strawberry Recipes section.
Balsamic Strawberry Salad Recipe
This salad is simple to prepare, and it goes great with virtually any meal.  Simply follow the preparation directions after gathering your ingredients, and you'll be one step closer to a happy eating experience!
Balsamic Strawberry Salad Ingredients
Salad Ingredients
1/2 cup of fresh strawberries (strawberries can be substituted, conversions here. You can also freeze your own)
1 head of romaine lettuce
1 cucumber
1/2 cup of green onions
Dressing Ingredients
3 tablespoons of balsamic vinegar
4 tablespoons of honey
4 tablespoons of salad oil
1 teaspoon of poppy seeds
1/2 teaspoon of salt
Balsamic Strawberry Salad Recipe Directions

First, chop or tear the head of romaine lettuce into bite-sized pieces.  Next, peel the cucumber, ans slice it.  Slice/chop the onions and strawberries into small pieces/chunks.  To make the dressing, pour all the ingredients into a Ziploc bag (or other seal-able container).  Shake the bag or container well until all the dressing ingredients are well-mixed.
Finally, pour the dressing over the salad just prior to serving, and enjoy!
Additional Notes on this Strawberry Salad Recipe
This balsamic strawberry salad recipe makes a great addition for any occasion.  It is simple enough to make frequently, and delicious enough to keep your guests asking for more.  Plus, just like most of the other Strawberry Recipes, this one can be easily modified. For varied tastes, try adding blueberries, blackberries, or other chopped fruit. Experiment and find what works well for you and your unique taste sensibilities! For those who don't want to use as much honey, substitutions can be made or additional sweeteners can be used. Feel free to try organic evaporated cane juice crystals, turbinado, sucanat, honey crystals, brown sugar, or even stevia to give unique and varied accents to this quick strawberry recipe.
Be sure to post a comment about your experience below, and others will benefit from your experiences!
Enjoy!