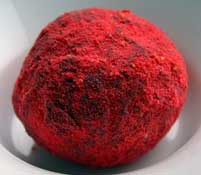 For those devotees of the mythical land of Narnia, allow me to put the splendor of this recipe into appropriate context for you.  Without the negative allegorical associations, this balsamic strawberry truffles recipe will cause one to ponder its supremacy over the seductive Turkish Delight treats used to lure young and wayward little boys into the clutches of the dark, yet white, destructive powers.  Of course, if you've never read the classic tale contained within the pages of The Lion, the Witch, and the Wardrobe, you've undoubtedly no context whatsoever for that introduction.  Suffice to say, this recipe will result in a fantastic creation likely to cause your taste buds to cling tenaciously to each bite.  Eat them in the hot, baking sun during the middle of summer, and the cool breezes of refreshment will gently caress your hair.  Eat them in the middle of winter, and you won't even have to wait for Punxsutawney Phil to pop his little gopher head up out of his hole and look for his body's blockage of sunshine; for when these are consumed in the cold, white winter, spring bursts forth.  Turkish Delights can take a back seat to these beauties!
And, of course, don't forget that this is just one of many extraordinary recipes available for your enjoyment on StrawberryPlants.org. There are tons of other recipes! If you are looking for other culinary uses for your extra strawberries, be sure to see the complete Strawberry Recipes section.
Balsamic Strawberry Truffles Recipe
This recipe is fantastic any time of year, but there is something about the holidays that brings a little bit of extra oomph to this recipe.  Try them during the Christmas season especially!
Balsamic Strawberry Truffles Ingredients
1/4 cup of dehydrated strawberries (you can use a dehydrator or sun dry them)
20 ounces of dark chocolate (70% cocoa recommended)
1 cup of cream
1 table spoon of balsamic vinegar
1 teaspoon of cornstarch
1 tablespoon of sugar
Balsamic Strawberry Truffles Recipe Directions

First, obtain dehydrated strawberries.  You can wash, hull, slice them yourself and then dehydrate them in a dehydrator or sun dry them (see links above), or you can just buy them freeze dried or already-dehydrated.  Once you've acquired your dehydrated berries, move along to the rest of the recipe:
Measure out approximately 12 ounces of the chocolate, and break them into small chunks.  Put the chunks into a blender and pulse them into very fine bits.
Bring the cream to a simmer over medium heat while stirring continuously.  Remove cream from heat and allow to cool until no longer simmering.  When the cream is still hot (but not simmering), add the balsamic vinegar to the cream.
Add the vinegar and hot cream to the chocolate bits in the blender and blend for fifteen seconds.  Pour the resulting ganache mixture into a loaf pan, cover, and allow it to cool.  When it is room temperature, the truffle mixture should have set to a firm consistency.  At that point, cover it well and refrigerate it for 2-3 hours.
After refrigeration, use a large table spoon (a melon baller actually works best) and make/form the truffles.  Set the formed truffles aside as they will be coated with chocolate shortly.
Prepare a double boiler; then chop up the rest of the dark chocolate and heat the chocolate carefully until it is melted.  Once melted, remove the chocolate from the heat and stir it to assist cooling.  While the chocolate is still warm (but not hot), roll the formed truffles in the chocolate until thinly coated.
Next, blend the dehydrated strawberries until they are finely ground, almost a powder.  Add the corn starch and sugar and stir.  Place the strawberry starch sugar powder into a bowl.
Place the chocolate-coated truffles into the bowl with the powder and gently shake them around until well-coated.  Allow sufficient time for the outer shell to set before removing the finished truffles from the bowl (best to allow 15 minutes here).  Once set, carefully remove the truffles and place them onto a sheet of wax paper or a non-stick cookie sheet.
Place them into the refrigerator for 15 more minutes to finish the setting process.
Then, try not to eat them all at the same time!
Additional Notes on this Strawberry Recipe
This balsamic strawberry truffles recipe makes a great dessert.  It is rich and creamy and better than any store-bought cookie.  Put them out at Christmas, and they will vanish faster than you can say "Rudolph the Red-Nosed Reindeer." Plus, just like most of the other Strawberry Recipes, this one can be easily modified. For varied tastes, experiment and find what works well for you and your unique taste sensibilities! For those conscious about the amount of refined table sugar they consume, feel free to try organic evaporated cane juice crystals, turbinado, sucanat, honey crystals, brown sugar, or even stevia to give unique and varied accents to this quick strawberry recipe.
Be sure to post a comment about your experience below, and others will benefit from your experiences!
Enjoy!