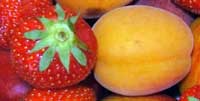 Whether you are entering a competition in your local strawberry festival, shooting for first place in a food preparation contest or convention, or just looking to win first place in the eyes of your family and friends, this is truly a blue ribbon strawberry apricot jam recipe.  The masses will end up clamoring for more of this taste triumph.  So, give the masses what they want and get busy making this tasty treat!
And, of course, don't forget that this is just one of many extraordinary recipes available for your enjoyment on StrawberryPlants.org. There are even other jam recipes! If you are looking for other culinary uses for your extra strawberries, be sure to see the complete Strawberry Recipes section.
Blue Ribbon Strawberry Apricot Jam Recipe
When you are finished making this, you might want to clear a space on the kitchen refrigerator.  All the awards you can take home with this recipe will undoubtedly fill up a refrigerator's real estate!  Or, so you don't bump off all the stick figures with cute googly eyes that your children created, teach them how to make this so that their fantastic winnings and ribbons can be displayed alongside your own!
Blue Ribbon Strawberry Apricot Jam Ingredients
2 cups of strawberries (strawberries can be substituted, conversions here. You can also freeze your own)
2 cups of apricots
4 cups of sugar
1 tablespoon of lemon juice
1 tablespoon of fruit pectin
8 tablespoons of apricot brandy
Blue Ribbon Strawberry Apricot Jam Recipe Directions

Wash and hull the strawberries.  Wash and peel the apricots, then cut them into pieces.  Put the apricots and strawberries in a blender and blend until smooth.  Next, mix in the sugar, pour in the lemon juice, apricot brandy, and fruit pectin.  Boil the mixture for 5 to 10 minutes, stirring frequently.  During this step, the alcohol in the apricot brandy will evaporate.
To verify that the jam is ready, take one teaspoon of the simmering mixture and put it onto a plate.  If the mixture gelatinizes, it is ready.  Once the jam is finished, skim off the surface foam from the mixture.  Pour the hot jam into clean, hot, sterilized canning jars, and fill them to the top.  Clean up the jars if any jam spilled on the outside.  Tightly screw on the jar lids.  Invert the jars so that they are upside down and allow them to cool for 10 minutes.  Turn the jars right-side-up and allow for 10 more minutes of cooling.  Afterward, store them wherever you wish until you can't wait any longer.  Then enjoy!
Additional Notes on this Strawberry Recipe
This blue ribbon strawberry apricot jam recipe is as an excellent breakfast addition or can even be an enjoyable dessert. Plus, just like most of the other Strawberry Recipes, this one can be easily modified. For varied tastes, try adding blueberries, blackberries, or other exotic fruit. Experiment and find what works well for you and your unique taste sensibilities! For those conscious about the amount of refined table sugar they consume, feel free to try organic evaporated cane juice crystals, turbinado, sucanat, honey crystals, brown sugar, or even stevia to give unique and varied accents to this quick strawberry recipe.
Be sure to post a comment about your experience below, and others will benefit from your experiences!
Enjoy!