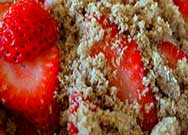 If you are like me, you think back to your younger days whenever anyone mentions brown sugar.  I would sneak into the pantry to steal a "snack" by licking my finger, sticking the moistened digit into the brown sugar, and then depositing that same finger into my salivating maw until it was sucked clean.  Don't tell anyone, but I'd stick that slimy finger back in the luscious substance more than once on most occasions!  There is just something captivating about the unique flavors that come from the darker sugar's composition.  Add that experience to an all-American favorite, strawberry shortcake, and you have a recipe winner that will send geriatrics back to a happier place and time while cementing forever the enjoyment of sweetness in the taste buds of the young whippersnappers.  So, get your kitchen ready, get set, and get this recipe underway!
And, of course, don't forget that this is just one of many extraordinary recipes available for your enjoyment on StrawberryPlants.org. There are even other strawberry shortcake dessert recipes! If you are looking for other culinary uses for your extra strawberries, be sure to see the complete Strawberry Recipes section.
Brown Sugar Strawberry Shortcake Recipe
Whether you are celebrating the Fourth of July, Memorial Day, or just a summer birthday, this recipe will be a success.  Everyone will love it, so be careful when you make it.  All your friends might want you to write the recipe down for them to take home!
Brown Sugar Strawberry Shortcake Ingredients
Topping Ingredients
1 quart of fresh strawberries (strawberries can be substituted, conversions here. You can also freeze your own)
1 cup of brown sugar
whipped cream
Shortcake Ingredients
2 cups of flour
1/4 cup of sugar
4 teaspoons of baking powder
1/2 teaspoon of salt
1 small pinch of nutmeg
1 egg, well-beaten
6 tablespoons of butter
1/3 cup of milk
Brown Sugar Strawberry Shortcake Recipe Directions
Shortcake
Set your oven rack to the center level and preheat the oven to 425 degrees Fahrenheit.  In a large mixing bowl, combine the flour, baking powder, sugar, salt, and nutmeg, and mix them together thoroughly.  Cut the butter into small pieces and then work them into the mixture with your fingers.  Make a well in the middle of the resulting mix, add the milk and egg, then mix until the dough is moist.  Let the moistened dough stand for 60 seconds.  Then, turn the dough into a greased and floured round cake pan, shaping it evenly.  Moisten the top by brushing on a small amount of milk or cream and sprinkle the top with sugar, if you prefer an additional sweet zip.
Bake the shortcake for 10 to 15 minutes.  It should have risen and baked to a golden brown color.  Test it by inserting a toothpick into the center of the cake.  If the toothpick comes out clean, remove the shortcake from the pan and halve it with a serrated knife.  If it isn't quite done, lower the oven temperature to 350 degrees Fahrenheit and bake for 5 more minutes.
Butter the hot shortcake, then top with the whipped cream, strawberries, and brown sugar.
Topping
About an hour or so before you plan to serve the strawberry shortcake, wash and hull the strawberries.  Make sure they are drained well, then cut them into halves and place them into a bowl.  Sprinkle them thoroughly with the brown sugar and let them stand for an hour.  Whip the whipping cream until it holds a soft peak, cover it, and then place it in the refrigerator until you are ready to serve.
When it is time to eat it up, cover the shortcake with the whipped cream, and then distribute the brown sugar strawberries over the cream!
This delicious brown sugar strawberry shortcake recipe makes 8 servings.
Additional Notes on this Strawberry Recipe
The unique burst of taste sensations given by the brown sugar makes this recipe a favorite of just about everyone.  It goes perfectly with summer heat and sunny days, but can be a cold-weather treat also. Plus, just like most of the other Strawberry Recipes, this one can be easily modified. For varied tastes, try adding blueberries, blackberries, or other exotic fruit to the bowl of strawberries just before adding the brown sugar. Experiment and find what works well for you and your unique taste sensibilities! For those conscious about the amount of refined table sugar they consume, feel free to try organic evaporated cane juice crystals, turbinado, sucanat, honey crystals, brown sugar, or even stevia to give unique and varied accents to this quick strawberry recipe.
Be sure to post a comment about your experience below, and others will benefit from your experiences!
Enjoy!