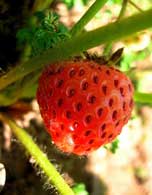 This is a question submitted to Strawberry Plants .org by a reader. The information provided in response to the question may benefit others with the same or similar inquiries. Therefore, it has been added to the archive page of submitted questions. See the Strawberry FAQ for more questions, or use the search box at the top right of this page to search this site for information.
Q: Where Can I Buy Strawberry Plants for Spring Planting?
On November 30, 2012, Mikel Stackson asked:
I am working on planning out my spring garden.  I have received several catalogs in the mail from seed companies and plant companies.  After reading your site, I see that I missed the window for getting strawberries for fall planting, but I would like to put some in the ground for my garden come warmer weather.  If you don't mind telling me, where can I buy strawberry plants for spring planting?  Thank you!
Answer to: Where Can I Buy Strawberry Plants for Spring Planting?
Mikel Stackson,
I'm glad you've decided to include strawberry plants in your spring garden this year!  With the information available on this site, you should find success (see the Growing Strawberries page to get started on the right foot). Also, with this time of year being the time when seed companies and plant suppliers begin sending out their catalogs and running specials on their plant offerings for spring, you can typically find a good deal when purchasing strawberry plants online for spring shipping.  To get the best price from reputable suppliers, be sure to visit the Buy Strawberry Plants directory.  There you will find all the suppliers who sell online, and you can price compare easily from one spot to maximize your garden budget and take advantage of any promotional offers or sales.