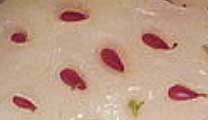 This is a question submitted to Strawberry Plants .org by a reader. The information provided in response to the question may benefit others with the same or similar inquiries. Therefore, it has been added to the archive page of submitted questions. See the Strawberry FAQ for more questions, or use the search box at the top right of this page to search this site for information.
Q: Can I Buy Pineberry Seeds?
On February 7, 2011, Angela asked:
I wanted to buy pineberry seeds for shipment to Northern Spain. Can you supply or provide a supplier. Thank you.
Answer to: Can I Buy Pineberry Seeds?
Angela,
Pineberries are a hybrid strawberry. Hybrid strawberries will not grow true from seed. So, even if you were to obtain pineberry seeds from someone who offered them for sale, they would likely not produce plants and fruit like you would expect. This is discussed more fully on the Pineberry Seeds page. Although you will likely encounter frustration if you decide to buy pineberry seeds online from a supposed retailer of such, you can buy the actual plants from numerous retailers. Getting them to you in Spain might take some effort depending on European Union shipping qualifications and customs requirements. Getting them from the United States may be more challenging.  See the Shipping Strawberry Plants page for more details, and good luck!
[ can i buy pineberry seeds ]
Strawberry Plants .org exists to help spread the passion for growing and eating strawberries. However, manpower is limited. If you have a question related to strawberries, feel free to submit it or post it as a comment. Please be patient, though, as it may take some time before your question is addressed.