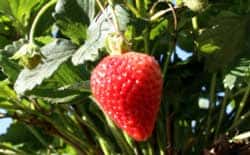 Planting strawberry plants in the fall is a good idea.  However, most home gardeners get excited about their gardens toward the end of the winter months and don't plan far enough ahead to plant strawberries during the autumn months of the previous year.
There are two main consequences of this widespread pattern:
1. Most home gardeners miss out on a healthy crop of strawberries during the first year (growing season) they are planted.
2. It is harder to find strawberry plants for sale in the fall months simply due to supply and demand.  Demand is much less, so supply is much less.
This post is for those people looking to plant strawberry plants in the fall so that they can reap a healthy harvest of strawberries during the gardening season the following spring/summer.  Below you will find some helpful reminders and information, as well as a list of suppliers who offer fall strawberry plants for sale.