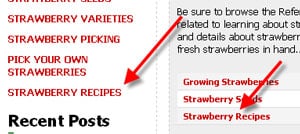 Before we know it, strawberry plants will be in full bloom.  The flower buds created in the fall of last year will be sent forth as late winter or early spring strawberry flowers.  And everyone knows what strawberry flowers turn into: strawberries!  Whether you are planning to grow your own strawberries this year, buy them at the store, or take a trip to a pick-your-own strawberry farm, you might need some creative ideas for using your excess strawberry harvest in delicious dishes.  You are where you should be!
The Strawberry Recipe Page Is Here!
Whether you are looking for recipes for strawberry salads, strawberry soups, jams, jellies, strawberry desserts, breads, tips for cooking with strawberries, guidance on how to freeze strawberries correctly, or a host of other mouth-watering strawberry recipes, you will likely find it on the latest reference page provided by Strawberry Plants .org.