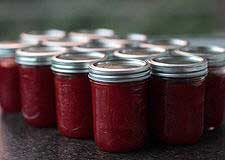 Strawberry picking is almost a national pastime.  Not to exaggerate, but it is even somewhat of a rite of passage for thousands of kids each year.  Plucking ripe strawberries from rows of strawberry plants (and munching on them in the process) is a delightful childhood memory for countless numbers of strawberry lovers.  But, most of us also think of something else when we think of the gentle "snap, snap, snap" that signifies strawberry plants releasing their harvest to happy pickers: strawberry preserves!
The number one purpose for strawberries not eaten fresh after being picked from a Pick-Your-Own Farm (or otherwise obtained) is use in one of the multitudinous strawberry preserves recipes available today.  This post is here to serve as a directory for delicious strawberry preserves recipes.
Everyone knows that strawberry plants make strawberries, and everyone knows that you have to have strawberries to make a strawberry preserves recipe.  So, peruse this directory of recipes if you are looking for strawberry jam recipes, strawberry jelly recipes, or other strawberry preserves recipes.  If you don't want create a tasty strawberry spread to slather upon toast or another object, there are many other Strawberry Recipes available that call for strawberries, and each will delight your taste buds!